Source: JurassicWorld.com via Bloomberg
Travel
What Would It Be Like to Actually Visit Jurassic World?
That is, if the fully operational luxury resort teeming with the world's scariest, smartest dinosaurs—and an outlet of Nobu—actually existed
By
Twenty-two years (and two sequels) after actors Laura Dern and Sam Neill barely escaped certain death by Jurassic Park's monstrous T. rex, we're heading back to that ill-fated theme park on Isla Nublar. Because it's finally open, and this time it'll be safe … right? 
"To see Jurassic World come to life is almost like seeing Jurassic Park come true," executive producer Steven Spielberg said of the $150 million remake, which opens on Friday, June 12.
This is what it'd be like if Jurassic World were an actual place and you went to visit—a heart-stopping vacation spot for adventure seekers and paleontologists alike. You are on your way to drive among herds of gallimimus, feed hungry triceratops, and hike into a wild primordial forest where the hot-bellied breath of new genetically modified dinosaurs (what is that?) will beat down on your neck. 
(Can you hear the theme song yet?)

Getting There
First, you must fly to Costa Rica, as the island—curiously shaped like cradle-of-life Africa—is located 120 miles off its coast. The park's partner, American Airlines, is more than happy to help you book flights.
After landing at San José airport (SJO), drive to the coast, hop on Isla Nublar's yacht-style, double-decker ferry, and speed across the sun-dappled Pacific toward the dramatic tableau before you: Lush tropical rain forests teem with prehistoric life beneath a cloud-covered volcano, as the outstretched wings of Pteranodons circle above. 
With the taste of sea salt on your lips, and the smell of coconut sunblock on your nose, you'll know you've arrived when the park's iconic jungle gates open to a new world, which is bigger, louder, and far more technologically advanced than the CD-ROM and night-vision goggles of the park you once knew. 
"We've reinvented it for the next generation," said production designer Edward Verreaux, who worked as an illustrator on the original Jurassic Park film. "We did a lot of research on resorts all over the world, because we wanted to create an environment modern travelers would really want to visit."

New, but familiar, Jurassic World's restaurants, shops, and high-end amenities resemble present-day theme parks such as Universal Studios Hollywood that Verreaux's team scouted for ideas. 
"It was important to us to create a place that could exist now, not a sci-fi imagining set in the future," Jurassic World's director, Colin Trevorrow, said in the production notes. "We wanted to create a very real, visceral park experience where you're able to get up close with the dinosaurs and step into their world."
Exploring Jurassic World
Transportation on Isla Nublar has gotten a serious upgrade. Instead of Jurassic Park's rinky-dink Jeeps, you'll enter and circumnavigate Jurassic World on a high-speed, air-conditioned monorail, which stops at an attraction every 20 minutes.
If you don't hop off, you'll speed past some of the park's most awe-inspiring marvels, like earth-shaking flocks of 500-pound gallimimus galloping through Gallimimus Valley, the peaceful grace of Triceratops Territory, or the bloody, voracious appetite of the one and only T. rex at her feeding time. (She eats her own kind!)

In some cases, transportation is the attraction. You'll have to brave long lines to ride the futuristic gyrosphere. This two-person, glass-orb-like vehicle glides smoothly over the tropical terrain of Gyrosphere Valley, allowing 360-degree visibility of the … omg … dinosaurs! Yes, you can use the in-sphere monitor to help identify the dimorphodons flying ominously above you, or an angry, armored pack of stegosaurus gaining speed behind you. And, also … DINOSAURS!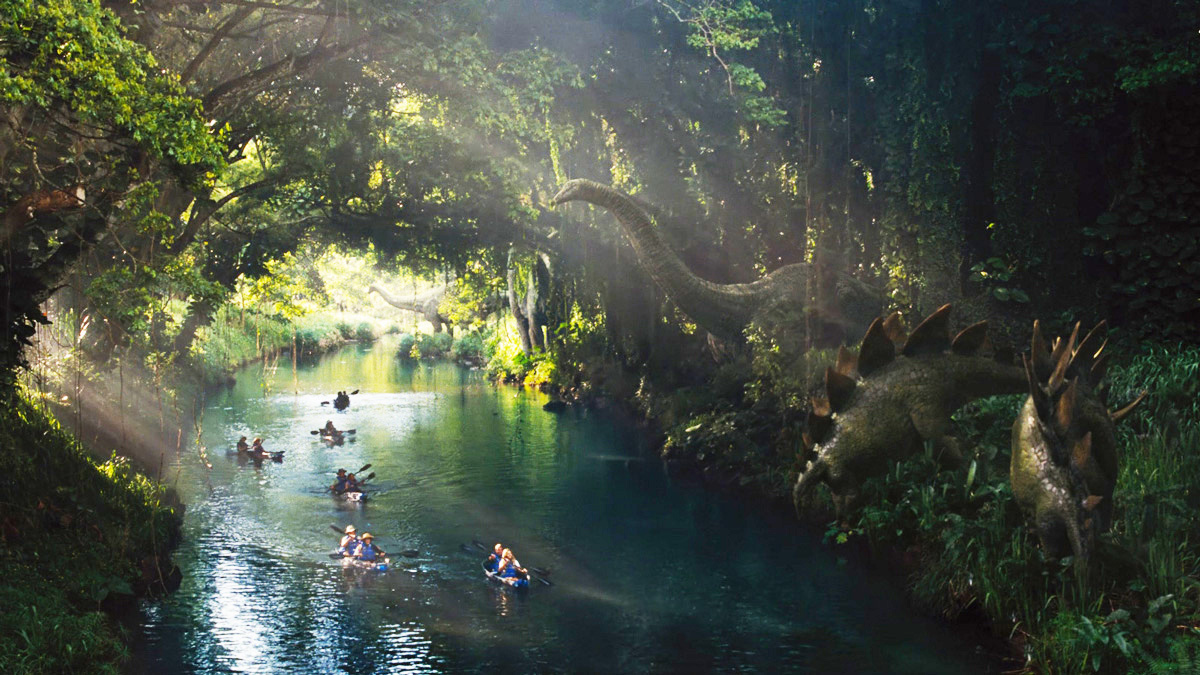 After that, you may need to cool off. Water lovers can strap themselves into a plastic kayak on the Cretaceous Cruise and paddle down a stegosaurus-infested river with nothing but a puffy blue life vest for protection.
Then again, if you don't want your dino-spiked adrenaline levels to dip, hop on a Triumph Scrambler and daredevil moto around in muddy tough-guy jeans, just like Jurassic World's dino-taming expert Owen Grady (Chris Pratt). If he can tear through the dark-night jungle and outpace a pack of aggressive, silver-eyed velociraptors, then by golly, so can you—and let's be honest, you'll probably need to. 

Many of the attractions on this 22-square-mile island can simply be visited on foot as well, including your to-be-expected baby dinosaur petting zoo and edutainment museum. Edu-what? You just pet a baby dinosaur!
To top off your truly unforgettable afternoon, head to the seaside stadium for the Mosasaurus Feeding Show. Come time, this prehistoric predator leaps from the blue-green depths of a performance pool, flashes the terrifying teeth of its gaping jaw, and, in an instant, swallows a dangling great white shark whole. Watch out for that splash zone.

Stay (Just Don't Sleep) 
Still have a pulse? Stop and check in at the all-inclusive Hilton Isla Nublar Resort, where you can recharge with the spa's signature mesozoic stone massage, cool off in one of several kid-friendly swimming pools, or get your game on at one of Jurassic Tennis Center's 32 indoor/outdoor courts. 

"Just because it's an adventure doesn't mean you have to rough it," promises the park's promotional website, and we couldn't agree more—except for the corporate-convention-center feel of the lobby and the kitschy brown wicker furniture, which suggests it might not be 5-star material.
But who cares. You're about to spend the afternoon playing on the hotel's palm-tree picturesque golf course with dinosaurs as caddie-mates. Hole. In. One.

Your Last Meal
At this point, you're probably ravenous—but unlike the park's famous velociraptors, you won't have to hunt to find food. The island's eight cafes and 12 sit-down restaurants are equipped to serve 20,000 people per day. With a decidedly cafeteria-esque feel, most of these paper-cup spots (including Ben & Jerry's, Starbucks, Baked by Melissa cupcakes, and Jamba Juice) are what you'd find at most any American theme park. We want dino steak! And dino egg omelets!
So given the likelihood you'll become prey by night's end, why not go for something more upscale? Call ahead for reservations at Nobu Jurassic World's amber sushi bar, or Winston's Steakhouse, with ivory cloth table linens and fine silverware that can cut into anything on its first-rate menu, featuring braised oxtail, porterhouse steak, and fancy fried oysters dolloped with creme fraîche tartar sauce.

Shopping Main Street
A stroll around Jurassic World's Main Street may start to feel like one big retail advertisement (Oakley! Columbia Sportswear! Brookstone! Swiss IWC Schaffhausen watches!) because, well, it is. Just go with it and get those oblivious-tourist-on-safari shorts. It's hot out here. Bonus: They're easy to run in.
You'll definitely want to stop by Brookstone for your classic jungle pith helmet. (Though, apparently it's not crackproof.) And no souvenir says I survived like a Mosasaurus tooth necklace from Pandora Jewelry. But, perhaps more important—you're going to need a sturdy pair of shoes. 

Head to the park's Columbia Sportswear store, and tie on a pair of their mud- and waterproof boots. You know, just in case. There's a new attraction coming on display, the most fearsome and intelligent of Jurassic World's creatures: the genetic hybrid Indominus rex. What could possibly go wrong?

The Real Jurassic World
OK, all those dinosaurs might not actually be real (even in 3D Imax), but a close-ish second actually exists. Michael Crichton fans can visit Isla del Coco, the uninhabited inspiration for Isla Nublar, located 300 miles off the coast of Costa Rica.
Flights to Costa Rica: This summer, Expedia's cheapest flights from New York to Costa Rica start around $459 (economy) per person, or $1,080 (first class).

Getting to the Island: Given that it takes 36 hours to get there by boat, group expeditions to Isla del Coco generally last 10 nights and average $5,000 to $7,000 (offered by Undersea Hunter Group and Aggressor Fleet dive tours). Its waters are a divers' paradise full of hammerheads, manta rays, and whale sharks, which are thought to have existed during the dinosaur era, so it's basically the next best thing.
Accommodation: Isla del Coco's visitors sleep on boats, as it's a national park without accommodation. Alternatively, Costa Rica's Arenas Del Mar resort provides 5-star suites for $750 per night, during the high season. 
Attractions: Costa Rica's got it all in terms of adventure—cascading waterfalls, rain forest zip-lining, shark encounters—without the dinos. So for a simulated Jurassic Park experience (i.e., robotic dinosaurs lunging at you while you raft down a chlorinated river), head to either Universal Studios Hollywood or Universal Studios Orlando. Day passes at these parks are $85 and $102, respectively. 

UPDATE: The twelfth photo in article incorrectly identified the Indominus Rex as the Dimorphodon, and has been updated. 
Before it's here, it's on the Bloomberg Terminal.
LEARN MORE