Jeb Bush to Meet Poland's Newly Elected President
The Republican establishment meets a Polish maverick.
By and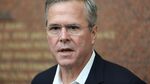 Former Florida Governor Jeb Bush will meet with Poland's newly elected president on Thursday in Warsaw.
Andrzej Duda, who won a Tea Party-like victory against the Polish establishment last month, will have an informal meeting in the afternoon with Bush, said Krzysztof Szczerski , a Duda adviser.
Bush, who represents the Republican establishment in the wide-open race for the party's U.S. presidential nomination, begins a five-day tour through Europe on Tuesday in Berlin. He's scheduled to deliver remarks and take questions at an economic conference hosted by German Chancellor Angel Merkel's political party.
Bush will hold private meetings in Berlin on Wednesday before heading to Poland, and finishing the trip in Estonia. He'll return to the U.S on Saturday, and two days later will announce his decision to enter the race for the Republican presidential nomination.
All three countries Bush is visiting have thriving economies, and he is expected to use the trip to highlight pro-growth policies in Europe while trying to make a connection to his own campaign, in which he's called for 4 percent annual growth in the U.S.
There will also be obvious defense policy implications. All three European countries have been among Ukraine's strongest supporters amid the country's conflict with Russia. Ukraine President Petro Poroshenko said earlier this month that 7,000 civilians have died since the fighting started in April 2014.
In Poland, the upheaval brought by Duda's victory comes at a sensitive time in the European Union. Poland has been the eastern anchor of the 28-nation bloc since it joined in 2004. Now, Greece is battling to stay in the euro, Britain is heading for a referendum that could take it out of the EU, and nationalist movements are upending politics across the continent.
In an interview last month with Bloomberg, Duda mocked former Polish Prime Minister Donald Tusk, now the EU president, for boasting that Poland is "swimming in the mainstream."
Echoing Europe's new breed of populists, Duda vowed to put Polish interests first. "We no longer count on the world stage," Duda said May 6. "We need to create our own path in European and global politics."