Get Ready for the Rise of the Machines
Huge amounts of innovation is pushing artificial intelligence to new levels. Should we be worried?
By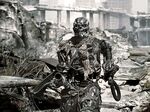 Watch out – the rise of computers and connected devices is coming faster than most people expect. That's the key takeaway from a meeting of some of the top minds and business brains in the tech business, held in London.