Rand Paul: 'We Shouldn't Do Things to Prevent People from Voting'
Some rare common ground with a Democratic foe.
By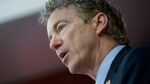 On Thursday, at a speech in Texas, Democratic presidential front-runner Hillary Clinton made her first sustained attacks on her potential Republican opponents. She wanted to make voter registration basically automatic, to extend 20 days of early voting in all 50 states, and for Republicans to "stop fear-mongering about a phantom epidemic of election fraud." Among others, she singled out Wisconsin Governor Scott Walker and former Florida Governor Jeb Bush for, respectively, making registration harder and overseeing a flawed purge of voter rolls. 
On Friday, some of Clinton's targets swatted her right back. "I don't want to expand [registration] and increase the opportunities for fraud," New Jersey Governor Chris Christie told CBS News during his latest New Hampshire trip. "Maybe that's what Mrs. Clinton wants to do."
Yet hours later, also in New Hampshire, a Republican presidential candidate who rarely passes up a chance to scorch Hillary Clinton took a softer tone on her voting rights pitch. 
In a scrum with reporters after opening the first New Hampshire campaign office of any 2016 GOP candidate, Kentucky Senator Rand Paul said he had not seen Clinton's speech, but noted that he had "tried to make it more inclusive so more people can vote." Paul, who has co-sponsored legislation that would lower the bar for ex-felons who want to vote, recounted how he'd testified to restore some Kentuckians' rights. "I've actually lobbied for allowing people to get their right to vote back."
Asked specifically about Clinton's early voting and automatic registration ideas, Paul did not push back. Rather, he suggested that the states need to lead the way.
Related:
"I'm not against early voting," Paul told Bloomberg. "I grew up in Texas, where we have early voting, and we're a dominant Republican state -- so I don't think it necessarily favors one party over the other. Each state should decide that. The Constitution and the history of the legal cases has been pretty clear that each state gets to determine the time and manner of the elections. I wouldn't have the federal government interfere and tell any state how to do it. The Fourteenth Amendment, I think, allows the government to get involved if there is a racial bias. I am fine with the federal government intervening in those cases."
Automatic registration, said Paul, was "sort of [up to] time and manner" of the states, as well. "I think each state has their own registration -- and I think Oregon just mails it to you, which I think is a bad idea," said Paul. "You ought to confirm who you are. I'm not against there being a little bit of effort, but we shouldn't make it hard. We shouldn't do things to prevent people from voting, but we shouldn't do things that encourage lapses in the system that allow people who aren't legitimate voters."
Paul had been tripped up by this topic before. In 2014, he suggested that a Republican push for voter ID requirements was "offending" some non-white voters. He has not used that language since. In April, he told an interviewer that "motor voter" laws were problematic because they might let non-citizens get ID cards, usable at the polls. "People tell me that once you get a driver's license you can vote," he said. "That's a problem. The federal government is funding some of this motor voter stuff, so we're looking at ways that we could actually restrict federal funds and say you don't get it unless you're doing the cross tabs on this data."
Pressed by NH1 reporter Paul Steinhauser at his Manchester campaign headquarters opening, Paul refused to say whether his party was making voting more difficult. "I don't know," he said. "All I know is what I'm trying to do, and I think it's a good idea for the Republicans to be a party that is for the vote, that is for allowing people to vote."