Rand Paul: 'We Shouldn't Do Things to Prevent People from Voting'
Some rare common ground with a Democratic foe.
By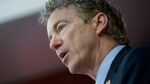 On Thursday, at a speech in Texas, Democratic presidential front-runner Hillary Clinton made her first sustained attacks on her potential Republican opponents. She wanted to make voter registration basically automatic, to extend 20 days of early voting in all 50 states, and for Republicans to "stop fear-mongering about a phantom epidemic of election fraud." Among others, she singled out Wisconsin Governor Scott Walker and former Florida Governor Jeb Bush for, respectively, making registration harder and overseeing a flawed purge of voter rolls.