All Eyes on Walker, Rubio at the Iowa Hog and Hog Event
Two of the top Republican performers in a recent Iowa Poll try to become the leader of the pack.
By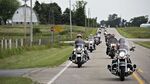 One arrived in a navy-blue Chevrolet Traverse sport-utility vehicle, while the other rode in on a rented 2014 Harley-Davidson Road King motorcycle.
While Senator Marco Rubio of Florida and Wisconsin Governor Scott Walker arrived by different means of transport, they had the same goal Saturday at the dusty Central Iowa Expo grounds near Boone, Iowa: outshine the other.
The two were among seven declared and likely Republican presidential candidates who tried to sell themselves to several hundred Republican activists gathered at the inaugural "Roast & Ride," a daylong political fundraiser and barbecue pork feed sponsored by Iowa's popular rookie senator, Joni Ernst. She created the event as a Republican version of Tom Harkin's annual steak fry south of Des Moines. 
Walker and Rubio sold their youthfulness amid an increasingly crowded field of Republican candidates, as they also looked for opportunities to contrast themselves with Hillary Clinton, the frontrunner for the Democratic nomination.
In Rubio's case, he seemed intent on also deflecting recent stories about his personal debt and finances.

 "The latest one is I shouldn't run for president because I'm not rich enough," he said. "It's true I don't make $11 million a year giving speeches to special interests and I don't have a family foundation that's raised $2 billion, a lot of it from foreign interests."
 The event offered Walker, a devoted motorcycle rider, many built-in advantages. He rode with Ernst at the front of a pack of more than 300 from a Harley-Davidson dealership on the north side of Des Moines to the expo grounds, an hour-long tour.
Walker, who led the latest Bloomberg Politics/Des Moines Register Iowa Poll, wore jeans, a leather jacket, leather gloves and a helmet. He eagerly showed reporters the Harley wallet in his pocket.
Walker has said he plans to also ride a motorcycle in New Hampshire and South Carolina, the states following Iowa in the nomination process. That assumes he formally announces a presidential bid, something he's expected to do in the next month.

"They just love freedom," Walker said when asked whether motorcycle riders tend to be more Republican or Democratic. "I don't know what that makes them, but they love freedom."
Before the ride, Ernst played down the advantages Walker was receiving from the day's activities.
"He has that advantage of being a motorcycle rider, but, again, I think we are going to have a lot of opportunity to see all of our candidates out there today," she said. "We've got a long ways to go before the Iowa caucuses."
Ernst had offered to give Rubio a ride on the back of her bike. Speaking to reporters, Rubio said he hasn't ruled out doing that in the future.
"I look forward to doing it soon, at some point," he said before his speech. "If we can get a jet-ski ride going, I can take her."
When an Iowan mentioned something about not having any speeding tickets, Rubio quickly quipped, "That's because you don't live in Florida," a reference to a New York Times story about the 17 moving violations recorded by the senator and his wife, Jeanette.
The recent Bloomberg Politics/Des Moines Register Iowa Poll showed Rubio is the most popular second choice among likely Republican caucus-goers, an indication of potential strength.
In his speech, Walker stuck to his standard script. After his remarks, he eagerly spoke about Clinton with  reporters, criticizing her for complaining about voter identification requirements he pushed for in Wisconsin. 
"I think most Americans, regardless of party, overwhelmingly think that's a common-sense reform," he said. "It's a prime example of how Hillary Clinton is horribly out of touch with where Main Street America is at."
He refused to say whether he would participate in the August Iowa Straw Poll, to be held at the same venue as the Roast & Ride. "Should we be a candidate, we'll be in Iowa quite a bit–whether or not the straw poll is a part of that obviously remains to be seen," he said.
In his address, former Texas Governor Rick Perry sold his experience as a governor, saying nobody gave him "a manual" with instructions on how to deal with crises including a space shuttle crash, Ebola, hurricanes and "tens of thousands" of people crossing the border with Mexico.
"This is going to be a show-me, don't tell, me election," he said. "The best days in America are in front of us, if we do our job."
Former Arkansas Governor Mike Huckabee presented his experience in the state's politics as an asset, especially in an election cycle where the Republican nominee may very well face a Clinton.
"If you want to nominate someone from the Republican Party that has faced, fought and won against the Clinton political machine, you're looking at the one guy who has ever done that and lived to tell about it," Huckabee said.
Senator Lindsey Graham of South Carolina also focused on the Clintons.
"Her definition of flat broke and mine are a little bit different," he said. "Anybody who thinks they are flat broke after serving two terms in the White House has lost their way."
In her speech, former Hewlett-Packard CEO Carly Fiorina argued that the nation's problems are keeping too many from reaching their potential. "The potential of too many people's lives in this nation is being crushed, is being squandered, is being wasted," she said.
Ahead of his speech, retired neurosurgeon Ben Carson criticized a Washington Post story that said his campaign has been rocked by the departures of senior staff and disarray at his allied super political action committees.
"There is no chaos, whatsoever," he said. "Things are going as smoothly as they possibly can go."
Any departures, Carson said, weren't a surprise. "The people who exited, that was a planned exit when we transitioned from an exploratory committee to a campaign," he said.
After the speakers finished, several audience members gave strong marks to Walker and Rubio.
"I do like Marco Rubio a lot," said Melissa Phipps, 41, a registered nurse and undecided caucus-goer from Mount Ayr, Iowa. "He is younger and has a lot of good ideas."
Chris Lee, 46, a banker from Des Moines, said he was impressed by Fiorina, Rubio and Walker. He said he's waiting to see how the race develops before making a decision, but may be leaning more toward Walker than Rubio. "A big difference is that Walker is a governor and has done stuff," he said.
Many of the active and likely candidates planned to make other weekend stops around Iowa.