Wal-Mart Renews Nepotism Concerns With Latest Pick for Chairman
Lauren Coleman-Lochner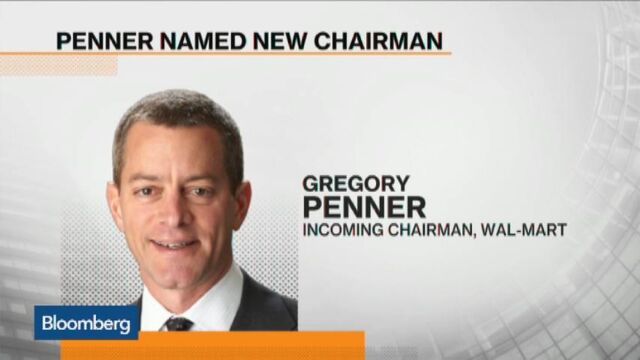 Wal-Mart Stores Inc. named another member of the founding Walton clan as its next chairman, renewing concerns that the world's largest retailer is still run like a family business.
Greg Penner, the grandson-in-law of Wal-Mart creator Sam Walton, will become only the third chairman in the company's 53-year history. He replaces Rob Walton, the oldest son of the founder, who has held the role since 1992.
While Wal-Mart telegraphed the move last year when it made Penner vice chairman, the change sparked fresh criticism about nepotism. Investors may worry that the board will emphasize the family's interests over those of other shareholders, Charles Elson, a law professor who runs the University of Delaware's corporate-governance center.
"Turning it over to a relative doesn't give the rest of the shareholders the same confidence than if you'd picked someone who was completely unconnected to the family," he said.
Wal-Mart has taken steps over the years to add outsiders to the board, said Randy Hargrove, a spokesman for the Bentonville, Arkansas-based company. Ten of the company's 15 directors are independent and only three are family members, Hargrove said. Wal-Mart separated the CEO and chairman roles in 1988 and is adopting other measures, including having most outside directors serve on more than one committee, he said.
American Attitude
Americans tend to be particularly skeptical about family-run businesses, according to Peter Jaskiewicz, a business professor at Concordia University in Montreal. That contrasts with investors overseas, who expect founding families to continue running large companies, said Jaskiewicz, who studies family businesses and nepotism.
In Penner's case, he comes to the chairman role with years of industry experience -- both inside and outside of the retailer. He served as chief financial officer of Wal-Mart Japan and the senior vice president of finance and strategy for Walmart.com, the company's e-commerce arm. In 2005, he started Madrone Capital Partners, a firm backed by money from the Walton family.
"He climbed the ranks within Wal-Mart," Jaskiewicz said. "This is somebody who's really qualified."
Penner was elected unanimously by the board, "a show of confidence in what Greg is going to bring to that role," Wal-Mart's Hargrove said.
"From our standpoint, if you look at Mr. Penner -- he knows the company, he's been involved with the company for 15 years," Hargrove said. "He's been on some key committees as well."
Independent Chairman
Still, some investors have pushed Wal-Mart to appoint an independent chairman -- someone who isn't tied to the family or the inner workings of the company. A proposal to require an outside chairman was voted down at Wal-Mart's shareholder meeting on Friday.
Activists also criticized the Penner announcement.
"Instead of listening to and respecting Wal-Mart worker shareholders who have been calling on Wal-Mart and the Waltons - - heirs to the Wal-Mart empire -- to a implement a new policy establishing an independent chairperson, Wal-Mart and the Waltons have once again decided to elevate family members to powerful positions," labor groups Making Change at Walmart and OUR Walmart said in a statement Friday.
Long-Term Thinking?
While the independent-chairman proposal didn't pass, Wal-Mart's sluggish sales have heightened the concerns, said Robert Jones, a psychology professor at Missouri State University in Springfield and author of the 2011 book "Nepotism in Organizations."
The benefit of family stewardship is the long-term perspective, Jones said. Family members can provide "stability, and the sense that there's an intergenerational relationship here."
Research on Standard & Poor's 500 companies shows that "family-run companies are definitely not performing more poorly than non-family firms," Concordia's Jaskiewicz said. "Some people even say they perform better."
That doesn't help with the perception of unfairness, though, said the University of Delaware's Elson.
"Family membership should not automatically exclude you, but it shouldn't be the basis for inclusion either," Elson said. "The director's there not to protect the interest of the family, but to protect the interest of all shareholders."