politics
Story About the Rubios' Traffic Tickets Sparks Conservative Backlash
The senator and his wife were cited 17 times over 18 years.
By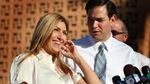 An article published online Friday morning by the New York Times appeared embarrassing for Senator Marco Rubio. The headline read: "Marco Rubio and His Wife Cited 17 Times for Traffic Infractions." Twitter lit up. The Drudge Report picked it up.
The story was more about Rubio's wife, Jeannette. Thirteen of the traffic infractions were hers, while the Republican presidential candidate got four tickets for speeding or breaking other traffic laws over 18 years in Miami-Dade and Duval Counties, the Times wrote. (The couple several times agreed to go to remedial driving school, the article added.)
Conservatives and Republican political operatives swiftly took to social media to rally to Rubio's side.
Ana Navarro, a Florida-based Republican strategist with longtime connections to potential Rubio rival Jeb Bush:
Rick Wilson, a GOP operative based in Tallahassee, Fla.:
Ben Shapiro of Breitbart News, a conservative website that often writes critically of Rubio, defended him in a string of tweets. One example:
 Shapiro swiped Democratic front-runner Hillary Clinton, for good measure:
A #RubioFacts hashtag on Twitter was used jokingly to accuse the senator of mundane wrongs, such as swimming after he ate.
Rubio's campaign declined to comment on the story or its fallout. 
Republican strategist Rory Cooper suggested that the story might paradoxically make Rubio look more sympathetic, as compared to Clinton, who said last year she hadn't driven a car since 1996, when she was First Lady.
"What's more relatable to American voters? Four speeding tickets over 20 years or a personal driver for 30?" Cooper wrote in an e-mail to Bloomberg.
For all the conservative accusations of media bias, though, this wasn't the first time a presidential candidate received coverage for traffic infractions. In March 2007, the Associated Press published an article reporting that Democrat Barack Obama had dished out $375 two weeks before launching his campaign to pay for 15 outstanding parking tickets and late fees.
Before it's here, it's on the Bloomberg Terminal.
LEARN MORE