politics
Rick Perry Borrows Elizabeth Warren's Message, But Does It Fit?
The former governor tries to thread the needle.
By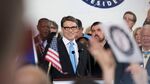 Toward the middle of former Texas Governor Rick Perry's presidential announcement speech, a listener could be forgiven for thinking the TelePrompTer had been switched out. All of a sudden, Perry was speaking the language of populist critics of Wall Street, people like Massachusetts Senator Elizabeth Warren and Vermont Senator Bernie Sanders.
"The American people see a rigged game, where insiders get rich, and the middle class pays the tab," said Perry. "There is something wrong when the Dow is near record highs, and businesses on Main Street can't even get a loan. Since when did capitalism involve the elimination of risk for the biggest banks while regulations strangle our community banks? Capitalism is not corporatism. It is not a guarantee of reward without risk. It is not about Wall Street at the expense of Main Street."
Just seconds later, Perry had moved on to the need for tax cuts–"we have the highest corporate tax rate in the western world"and the big guy/little guy paradigm was shunted aside. Yet it was not new. Perry had been grasping for a message like this since leaving the governor's office. In an April 6 speech at the Citadel, in South Carolina, Perry said cryptically that "we need to reduce taxes and regulations, and bring prosperity to Main Street and not just Wall Street."
How far was he going to go? On Morning Joe Friday, co-host Mika Brzezinski tried to figure out Perry's message by starting with its political risk. (The green rooms of cable news are overflowing with wealthy people who will predict doom for anyone criticizing finance.)
"You're not saying anything right now that is, you know, going to insult anybody that you need politically?" asked Brzezinski.
"You're talking about, like Wall Street?" Perry asked. "I think–I don't think–I hope I don't insult anybody.  I hope what I say is, here's what needs to change. If Wall Street–I don't believe there's anybody too big to fail.  I think we made a huge mistake when we passed too big to fail.  I said that with GM publicly back in–whenever that was like in 2009, when they were trying to get their deal through and I said I'm not for that. And GM's got a manufacturing facility in Texas.  But use the bankruptcy laws.  When corporate leaders make bad mistakes, they need to be held accountable, whether they're on Wall Street or whether they're on Main Street." 
Co-host Joe Scarborough gave that an approving "yeah." Yet Perry had criticized TARP -- what he appeared to be referring to as "too big to fail" -- before. And before, it had been pointed out that as co-chairman of the National Governors Association, Perry called on "Congress to leave partisanship at the door and pass an economic recovery package." Since then, he has insisted that this was not an endorsement of the bill before Congress, but a statement of support for doing something-or-other in a tough time.
Since 2009, jujitsu-ing the TARP vote to portray Democrats as the party that does Wall Street's bidding has been a reliable Republican tactic. In the Tea Party wave of 2010, it helped tremendously that voters often confused the 2009 stimulus package with the 2008 TARP bill, thinking of them as one monstrous giveaway that did not benefit them personally. In 2015, Warren and Sanders et al argue that the largest banks should be broken up. Perry won't or can't go that far, so he ends up stuck in 2009.
With one difference. Elsewhere in the launch speech, Perry made a short reference to reports that community banks were reeling under the regulations of the 2010 financial reform bill. "For small businesses on Main Street struggling to just get by, smothered by regulations, targeted by Dodd-Frank: I hear you, you're not forgotten," said Perry. "Your time is coming." Not unlike Hillary Clinton, Perry was trying to speak the language of populism without saying anything that would convince a Wall Street donor that he was truly under threat.
Before it's here, it's on the Bloomberg Terminal.
LEARN MORE