Parsing the Numbers in Rick Perry's '93 Million Not Working' Quote
The former Texas governor tries inclusiveness in talking about unemployment.
By and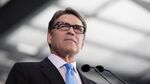 Numbers. There are lots of them. And Rick Perry's got 93 million.
"We've already got 93 million people not working in this country," the Republican presidential candidate declared Friday, about 45 minutes before the U.S. Labor Department announced the unemployment rate had crept up to 5.5 percent.
By the official count, there are 8.67 million people out of work. If 93 million were "unemployed" in the way the government calculates, the jobless rate would be 59 percent.
There's a 10-fold difference between Perry's number and the Labor Department's figure. Can both be right? 
Sort of.
Perry, a former Texas governor who announced his second bid for his party's presidential nomination on Thursday, can get to his more dramatic total by being more inclusive.
The Labor Department calculates the monthly unemployment rate as a percentage of the labor force, which it defines as people who are employed or looking for work. That's 157.5 million people, according to the Bureau of Labor Statistics.
As the national unemployment rate dropped from a high of 10 percent at the end of the recession, Republicans have taken to criticizing the way it's long been calculated—and by extension President Barack Obama's handling of the economy—because it leaves out people who are persistently unemployed and have given up looking for a new job.
While labor force participation, a way to measure people outside the workforce who are seeking employment, ticked up in May, its trend line has been steadily downward during Obama's presidency, hovering around 63 percent, close to the post-war average. (It was as high as 67 percent during the boom years at the end of the Clinton administration.)
The number cited by Perry in an interview on MSNBC's Morning Joe program Friday—which is also making the rounds in Republican-leaning media—counts everybody of working age in the U.S. who's not in prison or otherwise institutionalized and could, theoretically, be in the the labor force if they wanted to be.
That would include people who have retired or are too disabled to work, full-time college students, and parents staying home to care for children. Hence the careful way Perry constructed his statement as "people not working."
Counting all those adults brings the potential labor force up to 250.5 million. Subtract that the number of people with jobs or those who are looking for one—157.5 million—and you get to 93 million.
Perry's campaign didn't immediately respond to an e-mail seeking comment.