GE Aviation Presses Kasich as Ex-Im Becomes Republican Test
Mark Niquette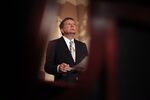 GE Aviation is disappointed in Ohio Governor John Kasich.
The Cincinnati-based operating unit of General Electric Co. employs more than 9,000 people in Ohio, spends $1.2 billion a year with state suppliers and garners almost 60 percent of its revenue from international sales supported by the U.S. Export-Import Bank. Yet Kasich, who's considering a Republican presidential run, opposes the agency as "corporate welfare."
GE Aviation contacted Kasich twice during the past 10 months seeking an endorsement of the bank, spokesman Rick Kennedy said. After the governor spoke against it last month, two company executives held a conference call with members of his staff and his development agency to express their surprise and to "educate."
Congress faces a June 30 deadline to reauthorize the 81-year-old bank, which helps foreign companies buy U.S. goods with taxpayer-backed loans and which was routinely renewed in the past. Republican candidates now face a choice of whom to anger: business allies who say killing the agency would hurt exports and jobs or ideologically driven Tea Party voters who deride "crony capitalism."
"This issue has become politicized to the point where the facts are sacrificed," David Joyce, chief executive officer of GE Aviation, wrote last month in the Cincinnati Enquirer.
When Kasich was in Congress, he voted to reauthorize the bank. That was before the need to fix a broken system and give companies a better opportunity to compete, Kasich said. Opponents say the bank uses taxpayer-backed assistance to disproportionately benefit large corporations and that it interferes with the free market.
"Any time anybody has a subsidy, they want to keep it," Kasich said in an interview. "I love GE, they've been great in Ohio, but I think they can figure their way around this."
The only Republican candidates who have publicly supported the bank are Senator Lindsey Graham of South Carolina and former Senator Rick Santorum of Pennsylvania. Graham has highlighted the bank's impact on Boeing Co., which builds the 787 Dreamliner in North Charleston and is its largest beneficiary. Santorum, who has made restoring manufacturing a focus, says the institution is critical.
Among Democratic candidates, Hillary Clinton and former Maryland Governor Martin O'Malley support reauthorization. Senator Bernie Sanders of Vermont opposes "rewarding companies that are outsourcing jobs overseas," spokesman Warren Gunnels said.
Right Hooks
The real fight, however, is among Republicans and their backers.
The Club for Growth and Americans for Prosperity, which is backed by billionaire brothers Charles and David Koch, would end the bank. On the other side, the U.S. Chamber of Commerce said it is spending "seven figures" on advertisements reminding voters of its role. The bank said it supported $27.5 billion in exports and 164,000 jobs in fiscal 2014.
The politics is particularly difficult for presidential aspirants who are governors, who have been traditionally supported by home-state companies and business groups. In Ohio, for instance, Joyce gave the state maximum of $12,156 for Kasich's re-election in 2013, and GE has contributed $7,500 since 2011, records show.
The governors of 26 U.S. states plus Guam and Puerto Rico - - including 10 Republicans -- signed a letter to congressional leaders in April warning that failing to reauthorize the bank would "harm businesses."
Samantha Smith, a spokeswoman for New Jersey Governor Chris Christie's Leadership Matters for America committee, declined to comment when asked for his position on Ex-Im. AshLee Strong, a spokeswoman for Wisconsin Governor Scott Walker's committee, would say only that he doesn't support reauthorization.
J. Hogan Gidley, a spokesman for former Arkansas Governor Mike Huckabee, didn't provide his position. David Catalfamo, a spokesman for former New York Governor George Pataki, didn't respond to requests for comment.
Opposition is a test for Republicans, said Stephen Myrow, a former bank vice president and chief of staff.
"Supporting Ex-Im just brings you the support of the more business-focused establishment crowd, which are not the people who generally come out and get active in the primary," said Myrow, now a managing partner at Beacon Policy Advisors LLC in Washington.
The pendulum of opinion has swung against government-granted privileges for corporations, said Veronique de Rugy, a libertarian who is a senior research fellow at the Mercatus Center at George Mason University in Virginia, which studies market-oriented ideas.
"Cronyism is not hip anymore," she said. "If you stand for cronyism, you're doing it at your own political risk in a way that wasn't true even three years ago."
Perry's Conversion
Former Texas Governor Rick Perry, a Republican who announced his 2016 campaign Thursday, once credited the bank with boosting the Lone Star economy.
Texas is the leading state for exports, with a record $289 billion last year, according to the U.S. Department of Commerce. It accounted for almost 18 percent of all exporters who benefited from Export-Import since 2007, with almost $30 billion of sales supported, according to the bank.
Now, Perry opposes it, a position announced May 5 in the Wall Street Journal.
"I'm sure his political consultants are saying he must join this bandwagon," said Tony Bennett, president of the Texas Association of Manufacturers in Austin, which represents more than 450 companies.
Senator Ted Cruz of Texas, a Republican candidate, also opposes reauthorization as a strategy of "breaking up what amounts to a D.C. cartel," spokesman Rick Tyler said.
Five public U.S. companies -- General Electric, Boeing, Caterpillar Inc. and units of General Dynamics Corp. and United Technologies Corp. -- had overseas customers that received about $10 billion in loan authorizations or long-term guarantees from the bank last year.
Advocates emphasize Export-Import's support for companies such as Air Tractor Inc., a firm with 270 employees in Olney, Texas, that makes agricultural and firefighting aircraft. About 65 jobs would be at risk without the bank, said Tyler Schroeder, the company's financial analyst.
Schroeder went to Washington this week to meet with the staffs of Cruz and other lawmakers. Given the importance of the bank to the company and state, the opposition is "very disheartening," he said.