Bill De Blasio Wants Hillary Clinton to Back End to Carried-Interest Loophole
Henry Goldman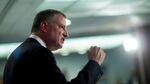 New York Mayor Bill de Blasio insisted that former Secretary of State Hillary Clinton call for higher taxes on the wealthy, a $15-an-hour minimum wage and an end to preferential treatment for carried interest earned by private-equity managers.
De Blasio, a self-described progressive, said in April that he was withholding his endorsement of Clinton in the 2016 Democratic presidential primary until she lays out specific plans for tacking income inequality.
In a radio interview Friday with Brian Lehrer on WNYC, de Blasio said Clinton should back investor Warren Buffett's suggestion of taxing chief executives at a higher rate than their employees and support an end to the rule that allows profits earned by private-equity managers, venture capitalists and some hedge funds to be taxed as capital gains rather than ordinary income.
"These are the kinds of things that have to happen to change the country and I look forward to hearing her vision of how she'll address these issues," he said.
The mayor said he was "very impressed" by Clinton's stands on immigration, criminal justice and expanded voter eligibility.
De Blasio, 53, managed the former first lady's successful 2000 bid to become a U.S. senator from New York, and in 1997 he worked for the U.S. Department of Housing and Urban Development in her husband's administration.
He made national news April 12 when he refused to endorse Clinton on the day she declared that she was in the race.