Jeb Bush to Announce Presidential Campaign Plans June 15
The Republican is widely expected to make his campaign official.
By and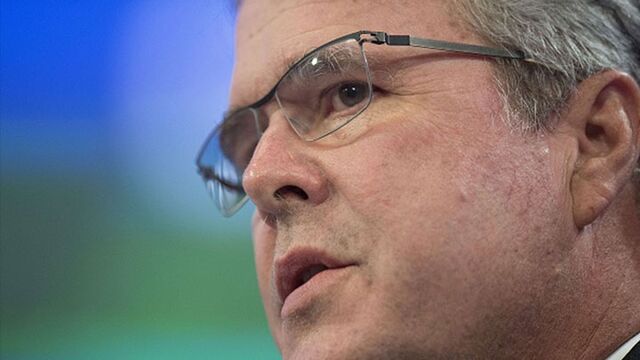 Former Florida Governor Jeb Bush will announce his presidential campaign plans on June 15 at Miami Dade College, and has said he will probably decide to seek the same job his brother and father held.
It would be Bush's first campaign since he won re-election in 2002 in Florida. The 62-year-old native Texan has spent the last decade tending to his education foundation, serving on multiple corporate boards, and occasionally appearing on the campaign trail with fellow Republicans.
That hiatus is what Bush's allies point to in trying to explain his refusal to announce a campaign earlier, and instead spend the past six months building a national political network and helping his super-PAC collect donations in unlimited amounts.
Once Bush is an candidate, he'll be subject to a $2,700 limit on contributions and be prohibited from coordinating with the PAC. The PAC, which is expected to be run by his long-time adviser Mike Murphy, had aimed to collect $100 million in the first three months of the year. Its first finance report is due in July.
Bush's announcement, at the college's campus in Kendall, a Miami suburb, will come two days after he returns from a three-country, five-day tour of Europe. Bush will spend the week after the Monday announcement on the road in states with the earliest presidential nominating contests, returning to Florida on June 19 for the Hillsborough County Republican Party's Lincoln Day dinner in Tampa.
In an interview on Tuesday on Fox News, Bush was asked what might dissuade him from entering the race. "Not much," he answered. "I'm pretty excited about the prospect, but I just wanted to go through this in an orderly fashion."
"Governor Bush is thankful for the support and encouragement he's received from so many Americans, and is excited to announce his decision," Bush spokeswoman Kristy Campbell said Thursday.
Bush will find a crowded field in the race for the Republican nomination. Those who have announced campaigns include U.S. Senators Marco Rubio, Rand Paul, Lindsey Graham, and Ted Cruz; former U.S. Senator Rick Santorum; businesswoman Carly Fiorina; former Governors Mike Huckabee, George Pataki, and Rick Perry; and retired neurosurgeon Ben Carson.
National polls in the last week from Fox News, CNN, and ABC/The Washington Post have shown that voters generally consider Bush, Walker, Rubio, and Paul to be the front-runners at this point, but no candidate had support from more than 14 percent of respondents. The first Republican presidential debate is August 6 in Cleveland.
Bush promoted the announcement on Twitter on Thursday. Doors will open at 1 p.m. Eastern, according to his website, jebannouncement.com. The website carried a disclaimer that said, "PAID FOR BY JEB 2016, INC."
Miami has already hosted another Republican presidential campaign announcement this cycle, for Rubio in April. Bush and Rubio, who have been close political allies for years in Florida, live within a few miles of each other in the city.
Bush's announcement plans were first reported Thursday by the Miami Herald and Tampa Bay Times.