pursuits
Who Needs the Fed? The Bond Market Is Already Lifting Rates Far and Wide
Jody Shenn, Cordell Eddings and Michelle F. Davis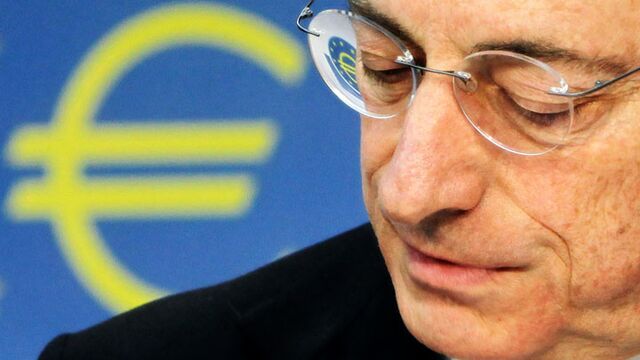 After almost seven years of low borrowing costs engineered by central bankers, consumers and companies are getting a preview of what's next.
A global bond selloff is translating into a real world impact, with yields on U.S. mortgage bonds that guide home-loan rates reaching the highest level since October and corporate borrowing costs climbing to the most this year.
For all the speculation about when the Federal Reserve will raise short-term interest rates, the bond market is the ultimate driver of most borrowing costs. And it's now showing its power, as a two-month jump in yields wipes out all of 2015 returns in bonds globally.
"It's been a wild ride -- it damages sentiment and psychology," said Christopher Sullivan, who oversees $2.4 billion as chief investment officer at United Nations Federal Credit Union in New York.
The rout accelerated Wednesday as European Central Bank President Mario Draghi whipped up a frenzy of selling that left German securities with their worst two-day slump in the history of the euro era by saying "we should get used to periods of higher volatility" at a media briefing.
"That's exactly counter to what central bankers are trying to do," said Doug Dachille, chief executive officer of First Principles Capital Management LLC, which manages more than $10 billion. "Central Banking 101 is all about reducing the fear that causes people to hunker down."
Negative Yields
Thanks to the efforts of central banks, yields on a large swath of European bonds -- led by German government debt -- were negative just a few months ago. After sitting below 1.4 percent in January and as recently as April, yields on all types of debt globally have jumped to a eight-month high of 1.69 percent, according to Bank of America Merrill Lynch index data.
Even with the Fed ending its bond buying in 2014 and looking for an opportunity to raise short-term rates, low yields abroad drove down U.S. borrowing costs at the start of this year. Now, they're jumping even as the American economy shows mixed signs of being able to bounce back after contracting last quarter and investors push out expectations for a Fed rate hike.
Housing Impact
"German yields went down so low they dragged us with them, and now that they've reversed course, it's pushing us back up where we should be," Scott Buchta, the head of fixed-income strategy at Brean Capital, said in a telephone interview. "I see housing as being the most impacted." A 0.5 percentage point increase in mortgage rates cuts the purchasing power of home buyers by about 6 percent, he said.
Thirty-year fixed-mortgage rates on Thursday rose to 3.94 percent, up from the previous week's average of 3.74 percent, according to Zillow Group Inc.
Signs of an accelerating recovery in the U.S. housing market this year have been tempered by declining affordability as prices rise, a trend that higher borrowing costs could exacerbate. While an index of pending home resales climbed 3.4 percent in April to the highest level in nine years, actual existing-home transactions dropped 3.3 percent during the month, according to National Association of Realtors data.
Yields on Fannie Mae securities that guide borrowing costs because they're used to package new 30-year loans for sale rose 0.11 percentage point to 3.07 percent as of 5 p.m. Wednesday in New York, according to data compiled by Bloomberg. They touched the highest since Oct. 7 and are up from a 2015 low of 2.43 percent in January.
Era's End
"I've been thinking for a long time that the end of the low mortgage rates was coming, and maybe this is an indication that this is a beginning of the end for that era," said Erin Lantz, vice president of mortgages at Zillow. "Markets are finally coming to their senses."
If investors flee bond funds like they did in 2013, Buchta said, it may cause more volatility this time because the Fed is no longer purchasing debt. Dealers have also further retreated from making markets in the face of new regulations, he said.
"Anytime you get something like this, the banks run to the sidelines and selectively provide liquidity -- it makes it even more difficult," said Matthew Duch, a money manager at Calvert Investments in Bethesda, Maryland, which oversees more than $13 billion in assets. "The market was lulled to sleep and forgot what volatility was. These sorts of moves are not healthy."
Economic Test
Higher rates on corporate debt come after a period in which U.S. companies borrowed money faster than they were earning it - - using the funds to inflate stock prices with buybacks and dealmaking. Yields on global corporate bonds from the safest to riskiest have climbed to a five-month high of 3.52 percent, from 3.2 percent in April, Bank of America Merrill Lynch index data show.
The move has underscored how intertwined growth and bond yields are.
"Maybe the economy's totally strong enough to withstand it, but maybe it's not," said Jack McIntyre, a Philadelphia-based money manager for Brandywine Global Investment Management who helps oversee $66 billion.
(To be sent this Credit Markets column, click SALT CMW. For more credit-market columns, see TOP CM.)
Before it's here, it's on the Bloomberg Terminal.
LEARN MORE