Making Ties Cool Again
A rock star's argument for knotting up this summer
By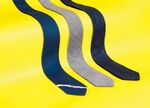 Famous guitarists aren't usually known for their tie predilections, but Albert Hammond Jr.—from the Strokes and releasing a solo album in July—has always been a fan of the suited-up look. After wearing some silk from the young New York brand Jacques Elliott, Hammond, 35, reached out to designer Elliot Aronow about collaborating on some summer neckwear.
Ties have had a rough go of it lately. The market's dropped to $850 million—about half the size of its mid-'90s heyday, say analysts at NPD Group—as suited men opt instead for plain oxford shirts or T-shirts with blazers. So Hammond decided to update the staid accessory with slightly shiny textures, a herringbone pattern you only notice up close, and in one instance, a tiny red lightning bolt modeled on the design of his guitar strap.
"I wanted to create ties that didn't have to be for the office but could work there," Hammond says. "Or on someone in a punk band." Aronow worked with his Brooklyn factory to get the shape right: At 56 inches, the ties are slightly shorter than standard. And they're 3 inches at their widest point, half an inch thicker than the skinny ones popularized by J.Crew and others in recent years. It will soon be sweltering out, so AHJ ties are made from lightweight wool-cotton blends that Aronow suggests pairing with a seersucker, linen, or cotton jacket. Hammond is less of a stickler. "I'll wear a tie even if it's hot," he says, "but I'll just put it on with a short-sleeve button-up." Note: Some stage presence required.
Before it's here, it's on the Bloomberg Terminal.
LEARN MORE