politics
Lincoln Chafee Enters Democratic Presidential Field
The former Rhode Island governor says he'll focus on the middle class, and will attack Hillary Clinton for her vote to authorize the Iraq War.
By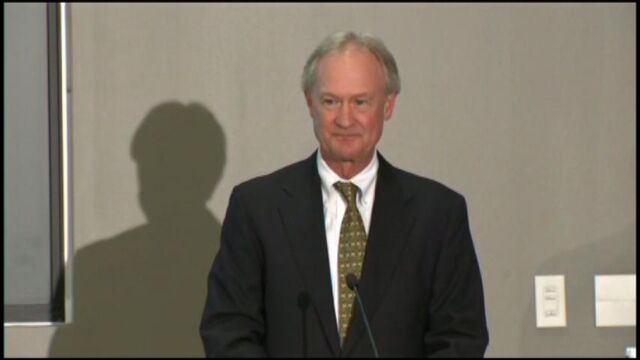 Lincoln Chafee, a former Republican-turned-independent who became a Democrat while he was governor of Rhode Island, formally launched his campaign for the Democratic presidential nomination on Wednesday.
"If we as leaders make good decisions, we can fix what's ailing us," Chafee said in an afternoon speech at the George Mason University School of Policy, Government, and International Affairs in Arlington, Virginia. 
His announcement focused on an internationalist vision of foreign policy, in which the U.S. should "wage peace" by repairing relationships that he said had been endangered by "chaos" unleashed by former President George W. Bush's foreign policy. He added that the U.S. should focus on bring countries including Russia and Venezuela closer for security, adopt the metric system, and even consider negotiating with ISIS.
"You have to think that it's always possible," he said of rapprochement with the terror group.
He also advocated positions that are typically in the mainstream of American polls, suggesting the U.S. should invest in education, including technical schools. That, he said, was a way to provide opportunities in the inner-cities and decrease clashes between residents and police.
"The zero tolerance types of things don't work," he said.
Environmental stewardship and "protection of personal liberties," such as freedom from phone searches and the right to an abortion, are other priorities of Chafee's, according to his exploratory committee's website.
Chafee, 62, left the governor's mansion in January and announced in April he had formed an exploratory committee. He has indicated that he plans to target primary frontrunner Hillary Clinton on her vote to authorize the Iraq War when they both served in the Senate. The vote, which hurt Clinton in her 2008 bid, raises questions about her judgment, Chafee has said.
"I don't think anybody should be president of the United States that made that mistake," Chafee told the Washington Post in April. "It's a huge mistake, and we live with broad, broad ramifications today—of instability not only in the Middle East but far beyond and the loss of American credibility. There were no weapons of mass destruction."
During Wednesday's announcement, he touted his vote in the Senate against that war, but took a softer line on the former secretary of state, rarely mentioning her name.
"It's critical that the integrity of the office of secretary of state never be questioned," he said, in apparent references to Clinton's use of a personal e-mail server while heading up U.S. diplomacy. He also suggested she was being advised by the same policy figures who launched the Iraq War.
He didn't outline what his electoral strategy to the White House might be, saying only that the early primary states of Iowa and New Hampshire rewarded the presence of candidates and that it was too early to talk about fundraising.
"I'm not going to have the billion dollars by necessity," he said.
Chafee has little traction in public opinion polls. He registered just a single percentage point among Democrats in a national poll of registered voters taken May 19-26 by Quinnipiac University. Clinton led the field with 57 percent, followed by independent Vermont Senator Bernie Sanders, who is running as a Democrat, with 15 percent. The other Democrat to announce his candidacy, former Maryland Governor Martin O'Malley, also had 1 percent.
Chafee, the son of the late Rhode Island Senator John Chafee, graduated from Brown University in Providence and worked as a blacksmith for several years. By 1999, he was the Republican mayor of Warwick, R.I., a town of about 80,000.
That year, his father died while serving his fourth term in the Senate. Lincoln Chafee was appointed to his father's seat and won election on his own in 2000.
In 2003, he became the only Republican senator to vote against the Iraq War and called for reinstating the top federal tax rate on high-income earners. He also voiced support for same-sex marriage. In 2006, Democrat Sheldon Whitehouse defeated him.
Chafee became an independent the following year, saying the GOP had become too conservative. In 2010, he won the governorship of Rhode Island, an office his father had also held, as had his great-great grandfather, Henry Lippitt. In 2013, while still in office, he became a Democrat. At the time, his approval had rating dropped below 25 percent in the overwhelmingly Democratic state, which was still ravaged by high unemployment. Later that year he declared he wouldn't run for re-election.
Days after forming his committee, Chafee told CNN he was running, but a spokeswoman later insisted he was still in the exploratory phase. That phase allows prospective candidates to travel and conduct polls without having to disclose donors or restrict their coordination with outside groups on strategy and messaging.
Chafee has said he could be the Democrats' nominee despite having only joined the party two years ago because his record has been consistent, while other candidates have history in the GOP.
"Jim Webb was a Republican and Senator Clinton was a Goldwater Girl," he told CNN in April.
He and his wife, Stephanie, live in Warwick, R.I., according to his exploratory committee website, and have three children.
Bloomberg Government contributed to this report.
Before it's here, it's on the Bloomberg Terminal.
LEARN MORE