How to Make Friends and Influence Elections
This California winemaker has a private plane and a boat. Now he has a super PAC, too.
By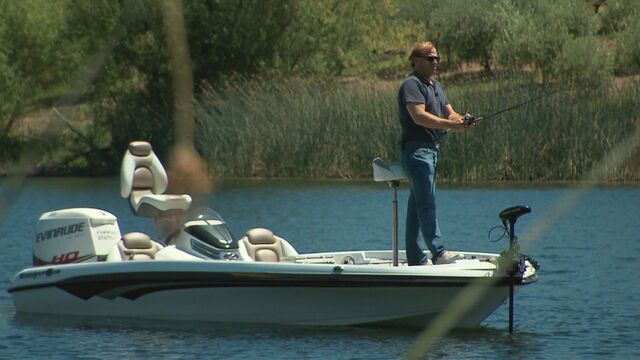 John Jordan, who runs his family's award-winning Jordan Winery in Sonoma County, Calif., has a lot of stuff. There's the 58,000-square-foot chateau and the 1,200-acre estate his parents bought in 1972. He has a bass fishing boat, which he keeps docked on one of two man-made lakes on the property, and three private planes, one of which he keeps parked near the estate so he can fly to nearby Santa Rosa for sushi on a whim. He has a startup, which has developed an app for restaurant wine lists, and a marketing team that makes videos of Jordan and his staff dancing to pop songs like Gangnam Style and Blurred Lines to post on the company website.
Before the midterm elections, Jordan, a longtime Republican political donor, decided he wanted something else, too: his own political operation. In October he set up Bold Agenda PAC and spent almost $600,000 promoting an 11-point policy agenda modeled on the 1994 Contract with America. It included rolling back taxes for small businesses that introduce employee profit-­sharing and cutting the salaries of elected officials. Jordan poured some of the cash into running ads for Elan Carr, a Republican who lost his bid for the Los Angeles-area House seat vacated by longtime Democratic Representative Henry Waxman.
Jordan paid for polling data as well as ad-making and media-buying advice, but rather than hire a political operatives to make decisions, he did the grunt work of drafting scripts and reading poll numbers himself. "By nature I'm a hands-on guy," says Jordan, 43. "I'm not the sort of country club Republican that is just happy to write a check and be done with it."
Jordan, who was one of the top 25 individual donors to super PACs in 2014, according to the Center for Responsive Politics, represents a new breed of political funder created by the Supreme Court's 2010 Citizens United decision. Rather than signing over contributions to a candidate's campaign or to a super PAC, rich political enthusiasts like Jordan can run their own minipolitical operations with almost no limits. "On some level, it's showing the system works," says Neil Reiff, the former deputy general counsel at the Democratic National Committee, now a partner at Sandler Reiff Lamb Rosenstein & Birkenstock in Washington. "Someone can just go out and do this on their own."

Starting a personal political operation gives Jordan a degree of control he wouldn't have as a donor to the influential network of super PACs and nonprofits run by the billionaire brothers Charles and David Koch, who've said they intend to spend $900 million supporting conservative candidates and causes in the 2016 elections. Financed through a combination of the brothers' wealth and donations from other contributors, the Koch groups have grown to rival traditional party organizations in size and scope. Top donors are rewarded with access to candidates at exclusive retreats, but they often have little say in setting policy demands. It's something that doesn't interest Jordan much. In fact, he tends to get far more excited talking about the top campaign staff members he knows than the actual candidates themselves. 
Typically, solo donors have a particular issue in mind. California billionaire Tom Steyer, 2014's top super PAC spender, put up more than 90 percent of the $74 million his NextGen Climate Action Committee spent supporting Democratic candidates. The group's strategy was set by veteran Clinton operative Chris Lehane; many of its favored candidates, including Colorado Democratic Senator Mark Udall, lost. 
Jordan, a lawyer who served in the Naval Reserve before taking over the winery business from his parents in 2005, has been a donor to Republican causes for years. In 2011, 2012, and 2013, he sent checks for the maximum amount allowed annually—more than $30,000—to the Republican National Committee. He gave generously in 2012 to Crossroads GPS, the nonprofit established by veteran George W. Bush aide Karl Rove to support Republican candidates. Its affiliated super PAC, American Crossroads, spent more than $100 million for Mitt Romney and Republican Senate candidates in several states, including Virginia and Ohio. "They lost," says Jordan, who soured on the idea of handing over cash without being able to track how it was going to be spent. "I don't think they think donors are stupid," Jordan says of political consultants. "But politics is a specialized game, and they don't want the donors actively involved for the most part."

In 2013 he quietly created his first super PAC, Americans for Progressive Action, to support Gabriel Gomez, a former Navy SEAL who ran against Democrat Ed Markey in Massachusetts to fill the U.S. Senate seat vacated by John Kerry when he became Secretary of State. Jordan, who'd never met Gomez, dropped $1.7 million into the race after other Republican groups declined to get involved. "I will do the races that have some sort of outside shot, that maybe party committees and super PACs won't do because they're too risk averse," Jordan says.
Gomez lost by 10 percentage points, but Jordan was just getting started. He set up a nonprofit policy advocacy group called Americans for Shared Prosperity and asked Rick Wilson, a well-known GOP ad man, to create a 60-second spot titled Dating Profile. In it, a woman in a pink shirt talks about falling out of love with the hunk she met in 2008. "I know I'm stuck with Barack for two more years, but I'm not stuck with his friends," she says. Jordan paid to air the ad nationally during the Sunday morning political shows, including Meet the Press. It drew more than 600,000 hits on YouTube. "Frankly, the system needs a shake-up every once in a while," says Wilson, who worked for Rudy Giuliani before setting up his own strategy company. "There are a million people making thousands of ads. He wants to do things that aren't dull."
Jordan, who declined to estimate his net worth, gave a total $2.9 million to super PACs in 2013 and 2014. (Along with the two he started, Jordan gave $637,500 to New Republican, a super PAC run by the GOP strategist Alex Castellanos to support a long shot Republican U.S. Senate candidate in Oregon.) He won't say how much he's put into the nonprofit Americans for Shared Prosperity, which isn't required to disclose its budget. And he won't predict how much he'll spend heading into the 2016 election. On June 22 he'll host a fundraiser at the Jordan Winery for Republican Wisconsin Governor Scott Walker, who hasn't yet announced his presidential candidacy. One thing he will commit to is his strategy -- one that will focus on finding long-shot candidates with a chance to win and searching for space to push his policy message. 
The non-traditional path in politics also tracks fairly closely to how he operates in his day job as the CEO of the winery.  Jordan, who lives on the estate, treks through the grounds on his ATV, two rescue Labrador retrievers sprinting alongside. He's has returned cattle ranching to the estate, invited conservationists to study resident and migratory birds, and appointed arborists to care for the trees that have towered over the estate for hundreds of years. The estate is home to two miniature donkeys named Maverick and Goose (yes, Top Gun is one of his favorite movies), not because he needs them to work, but because they both were in need of a home. He bestows names like Mr. Burns and Stewie Griffin, of The Simpsons and Family Guy character fame respectively, on the bass he reels in on the lake that sits in between rows of grape vines on one side and olive trees on the other. Then he throws them back. 
But for as much Jordan as he appears to be having day-to-day, especially when it comes to the YouTube video parodying pop hits, Wilson says it's important to recognize something else: the dedication to politics is real. "John enjoys life, but he also enjoys politics," Wilson says. "He takes this very, very seriously."
An avid Denver Broncos fan, Jordan describes himself as a wedge buster. That's the guy a team sends down on a kickoff to run smack into a wall of opposing team players. The goal is to absorb their resources and give his teammates a chance to make the play. Winning isn't the way Jordan wants to measure the value of his political investments. "That isn't the issue," he says. "You've got to really be willing to, pardon the expression, geek out on this stuff."
The bottom line: A rich political donor disillusioned with large super PACs is spending millions through his own group.