Bobby Jindal to Announce June 24 Whether He's Running for President
The conservative Louisiana governor would join a large and growing Republican field.
By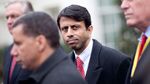 Louisiana Governor Bobby Jindal said Wednesday he will announce June 24 in New Orleans whether he will join the large field of Republicans running for president.
"If I decide to announce on June 24th that I will seek the Republican nomination for President, my candidacy will be based on the idea that the American people are ready to try a dramatically different direction," Jindal said in a statement e-mailed by his exploratory committee.
He said that "other Republican leaders are talking about change" but that he had worked on actual plans to replace Obamacare, make the U.S. energy-independent, and change education policy.
Jindal is the first choice of just 1 percent of likely Republican caucus-goers in the key early nominating state of Iowa, according to a Bloomberg Politics/Des Moines Register poll published Saturday.
A slew of Republican governors and former governors are expected to join the race in coming weeks, including Rick Perry of Texas on Thursday in Dallas. Republican TV personality and businessman Donald Trump is expected to announce his decision on June 16 in New York. On the Democratic side, former Rhode Island Governor Lincoln Chafee is set to announce his run Wednesday in Virginia.