Two Draft-Warren Groups Call It a Day
A third group says it hasn't given up hope.
By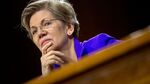 MoveOn.org Political Action and Democracy for America said Tuesday they will end their "Run Warren Run" campaign, a months-long push for Democratic Senator Elizabeth Warren of Massachusetts to run for president.
"The Run Warren Run campaign has changed the conversation by showing that Americans are hungry for Elizabeth Warren's agenda—an agenda that rejects the rigged status quo in Washington and puts working and middle-class Americans over corporate interests," said Ilya Sheyman, executive director of MoveOn.org Political Action, in a statement e-mailed by DFA spokesman Neil Sroka. "We've assembled a grassroots army and demonstrated the substantial support Sen. Warren could expect if she were to enter the race. Now it's time to suspend our active draft efforts and pivot to standing alongside Sen. Warren on the big fights ahead, starting with stopping Fast Track for the Trans-Pacific Partnership." 
On Monday, the campaign's supporters will take a petition with more than 365,000 signatures to Warren's Washington office, asking her to run, according to Sroka's e-mail. "The groups will then rest their case," the e-mail said.
Warren has repeatedly said she is not seeking the Democratic presidential nomination against former Secretary of State Hillary Clinton. Self-described socialist Senator Bernie Sanders and former Maryland Governor Martin O'Malley are also in the primary race, polling far behind Clinton nationwide and in key states.
In a January Bloomberg Politics/Des Moines Register Iowa Poll, Warren was the first choice of 16 percent of likely Democratic caucus-goers, placing second behind Clinton. In the same poll in May, Warren was excluded and Sanders moved into second place with 16 percent.
Another group, Ready for Warren, indicated Tuesday that it wasn't giving up the fight yet. "Already, Senator Warren has become Hillary Clinton's top challenger, and as the primary unfolds we'll continue to show voters—and Warren herself —that Elizabeth Warren is needed as a candidate in this race," campaign manager Erica Sagrans said in a statement.