The Selzer Score Shows Scott Walker Is Actually Trouncing Republicans in Iowa
With a crowded field, the index seeks to provide a better, more nuanced measure of a candidate's strength.
By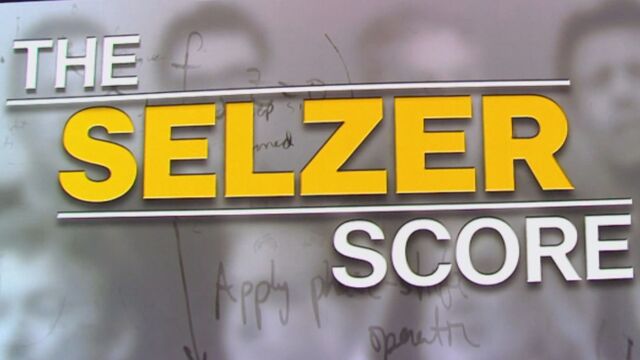 Scott Walker has an edge on other Republican contenders in the latest Bloomberg Politics/Des Moines Register Iowa Poll, winning the backing of 17 percent of likely Republican caucus-goers in the Hawkeye State. By another metric—the "Selzer Score"—he jumps even higher.
With the Republican field growing by the week, methods of evaluating candidates' strength can be difficult to come by. Only a few percentage points can separate leaders from the field.

"You have 100 percentage points to distribute, and if it's across 16 candidates, many will sink to the bottom, and that hides the potential those candidates hold to build a following," said J. Ann Selzer, president of West Des Moines-based Selzer & Co., which conducted the poll of 402 likely Republican caucus-goers May 25-29. It has a margin of error of plus or minus 4.9 percentage points.
To better assess a candidate's relative strength of a candidate, Selzer devised the Selzer Score.
Selzer's index takes into account the first and second choices made by poll respondents, as well as the number of respondents who said they could ever support a particular candidate. First choices were given double weight.
Selzer told Bloomberg's John McCormick that this measure "creates more distance between candidates. It's a more rounded view of who are the leaders and potential leaders."
By the Selzer Score, Walker is riding high, with a score of 64.5.  Next comes Huckabee at 51.5, Carson and Rubio at 48.5, Paul at 47.5, Bush at 44, Santorum at 43.5, Texas Senator Cruz at 42.5, former Texas Governor Rick Perry at 39, and New Jersey Governor Chris Christie at 29. Left out of the top 10 are Louisiana Governor Bobby Jindal, former Hewlett-Packard CEO Carly Fiorina, business executive Donald Trump, Ohio Governor John Kasich, South Carolina Senator Lindsey Graham,  and former New York Governor George Pataki.
Compare:


Fox News and CNN recently announced guidelines for the first Republican debates of the 2016 cycle, indicating that they will limit the field to to the top 10 or 11 candidates, based on an average of five recent national polls. (CNN will have a separate forum for the candidates who do not place in the top 10.)
But with the debates—and the polls—still months off, the Selzer Score seeks to present a more rounded and nuanced way to assess the entire field.