Cars
Ford's Mustang Is Officially the American Sports Car to Beat
Where's Camaro, and what happened to the pony car race?
By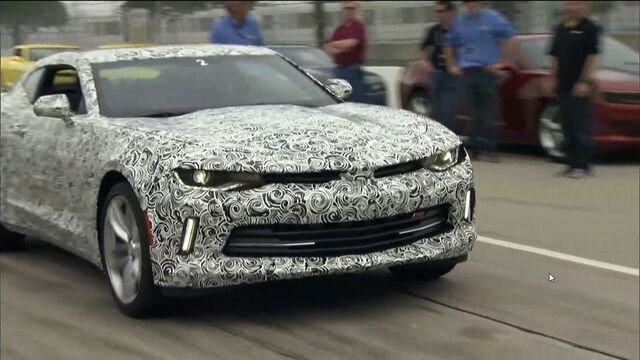 After years of champing at the bit, Ford Motor's Mustang is opening a huge lead in the race for the pony car market.
In the first five months of the year, drivers keen on an American sports car bought 56,571 Mustangs, a 55 percent increase from a year earlier. At the same time, Mustang's closest competitor, Chevrolet's Camaro, went into a skid: Only 33,982 of the vehicles drove off the lot through May, a 13 percent decline.

It's an astonishing gap in what has been a tightly contested market for 50 years. During the past five years, Camaro has been on top. "I always think of it in political terms," says Chevrolet spokesman Monte Doran. "There's 40 percent of the market that would never think of leaving Camaro and 40 percent that will always buy a Mustang. But that 20 percent in the middle is the swing vote."
The pony car platform has long been simple and straightforward: lots of horsepower, loud paint, and a cool design for relatively few dollars. A bare-bones Mustang posts 300 in horsepower and can be had for less than $24,000. It's one equation that Detroit still engineers as well as or better than anyone else, along with pickup truck profits. But if the market were, indeed, an election, Ford is now winning in a landslide.
Part of its success comes down to timing. The Mustang sitting in dealerships now is a drastic redesign ordered up by the executive team to celebrate the model's 50th anniversary. The slightly younger Camaro doesn't hit 50 until next year. (Or 2017, depending on when one marks its start date.)
"Some of this can be explained just by people waiting for next year's Camaro," says Bloomberg Intelligence analyst Kevin Tynan. "But a lot of it is also the new Mustang just being really good."

Drive a "triple yellow" version of the 2015 Mustang through the streets of Manhattan and you get two looks: approving nods and get-over-yourself eye-rolls. What's important: Everyone looks. Even in single yellow, the machine would demand attention. Most notably, the Mustang seems longer and leaner than prior iterations—less hot rod, more Jaguar, less Lebron James 2012, more Lebron 2015, all sinewy and carb-free.
"When you do such a dramatic redesign, either it's going to resonate really well or it's not," says Ford Marketing Manager Melanie Baker. "Honestly, we're ecstatic with the [sales] numbers."
The Mustang can still be had with a manual transmission and a big-block V-8 full of barbaric yawp. But Ford is also offering the car with a turbo four-cylinder. To Mustang purists, this is like selling four beers in a six-pack, but the purists will keep buying. Plus, it's a new, green world out there, full of high-performance hybrids and sake cocktails.
"We actually call it Ecoboost, because people have a negative association with 'four-cylinder,'" Baker explains.
Roughly one-third of Mustang buyers are opting for the small engine. Meanwhile, California has become the Mustang's No. 1 market.
In the cockpit, Ford finally fixed a number of little irritants. The cup holders, for example, no longer crowd the gear selector. And it added something called line lock, which clamps the brakes to let a driver smoke the back tires at a stoplight. It's a feature straight from the "you know what would be cool?" file, and it comes standard. Despite little cheap engineering tricks like that—or perhaps, because of them—the Mustang is pulling a greater share of buyers away from more refined and expensive luxury brands, according to Baker. (Note to BMW: Make a burnout button.)
Chevrolet, meanwhile, is biding its time. Last month, it unveiled an all-new Camaro that will be about 200 pounds lighter than its predecessors and also can be had with the model's first turbo-charged engine, a four-cylinder unit.

GM's Doran says the vehicle's designers managed to make the car look both contemporary and classic, which is never as easy as it sounds. "You could strip all the badges off that car and put it on the moon, and it would still look like a Camaro," he says.
The most muscle-bound Camaro model will also make 455 horsepower, 20 more than Ford's meatiest pony.
The more anticipation builds, however, the more the current Camaro will lose its sheen. At current trajectories, the Dodge Challenger—last year a distant No. 3 in the pony car race—will overtake Chevy's entry-level sports car in the next few months. Through May, Challenger sales in the U.S. increased by 38 percent, to 30,166. 

General Motors Chief Executive Officer Mary Barra has said the new Camaro is designed to keep the pony car crown, not compete for second place. "I think we will, and that is our goal," she recently told Bloomberg. The car will start showing up in dealerships around the end of the year, which can't come soon enough for General Motors. In the meantime, Camaro fans will be able to find screaming deals on the 2015 models.
Before it's here, it's on the Bloomberg Terminal.
LEARN MORE