Restaurants
London's Most Celebrity-Filled Restaurant, the Ivy, Is Back
And it's not worried about competition from hot newcomers such as Chiltern Firehouse and Kitty Fisher's
By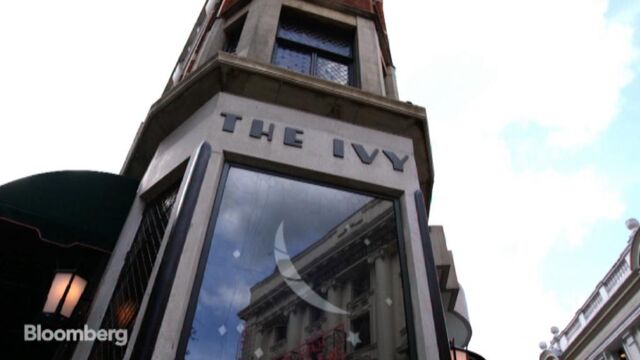 London's the Ivy, one of the world's most famous celebrity restaurants, reopens today after closing in January—for the first time in 25 years—for a facelift.
Its regular customers, who include countless movie stars, may wonder why the Ivy waited so long for cosmetic surgery. (It is almost 100 years old.) Well, I can tell you that if you have the connections or patience to get a table, the new look is a dramatic improvement.
The Art Deco dining room is brighter and more beautiful and ready again for a starring role. Fernando Peire, restaurant director and maître d' par excellence, first worked there in 1990 and is ready for anything. 

He still recalls the night when the late Princess Margaret—younger sister of Queen Elizabeth II— dined on the same night as the novelist Salman Rushdie, the subject of a fatwa by Ayatollah Khomeini requiring his execution.
"We're not a restaurant for allowing security in except, for example, when Princess Margaret was alive," Peire says. "She would have her armed detectives on one corner table and then we had armed detectives coming in with Salman Rushdie, and I was going to have to put the detectives next to each other. 
"So I had to stop the second table as they came in and say, 'Look, I have to warn you: The men at the table next to you are going to be armed tonight, and I don't want this to end up in a shoot-out.' That's one of my magic moments."
The princess was a regular diner and one evening had to wait in the bar while her table was prepared.

"Some people came in and were a little bit edgy because it's after theater and they haven't eaten since lunchtime," Peire says. "It's maybe 10:30, and I said I was terribly sorry, but they would have to wait. And they started getting crazy and saying they'd booked their table and wanted to sit down.
"And I said: 'Well, everybody's waiting,' and there's Princess Margaret, good as gold, drinking her Famous Grouse. That suddenly created a silence and everybody was very happy to have another drink in the bar."
That tiny bar, partitioned off at the entrance, has been swept away in the new look by designer Martin Brudnizki Design Studio. You now walk straight into the dining room, which is much lighter, with a clear view of the famous stained-glass windows along both sides and a 20-seater bar for dining at the center.
The Ivy used to be known for its good and bad tables, with a section toward the back being social Siberia. That is where I was seated after I called in July 2006 to book a table. 

"You're very lucky," the receptionist said. "We've just opened our latest six-month booking period." Unfortunately, no Friday or Saturday night reservations were available, but they could give me an early table on a Wednesday night—a Wednesday night six months later, in January 2007.
(When I arrived, I ran into a colleague who had a contact at the restaurant and had booked two hours earlier.)
In those days, as a civilian, you took what you could get.
"There was a moment when, if you weren't unbelievably famous or super-well-connected, you couldn't eat at the Ivy at a peak time because it was like a club," Peire says.
"I remember a night when Sylvester Stallone was in with Arnold Schwarzenegger, and they were with some very powerful PR person, and the table was meant to be, like, for six or something. We didn't even have a table, but I thought, it's going to be big news to get them in, and it will be good for the Ivy.
"That turned into 16 or 17 people on what was really only a table for 10 when you pushed things together. And then you had the beefcakes in the bar, and I was constantly pushing them outside. Celebrities as customers are generally absolutely fantastic and very rarely difficult. Ask about the minders and the entourage, and then you are in minefield."

These days, the Ivy has stiff competition from such other restaurants as Chiltern Firehouse and Kitty Fisher's for celebrity diners. How will such rivals affect the Ivy?
"I enormously welcome competition," Peire says. "There is a crowd that chases fashion and wants to be where the heat is, wants to be where the latest party is, and I see those people around London restaurants. It's not an enormous crowd, but it's a crowd. There are lot of other crowds, too. But the Ivy, more than most restaurants, doesn't have just one crowd.
"Dining out is changing because there are so many more restaurants. The times of the powerful restaurateur who calls all the shots are gone, and you do have to be more democratic."

The Ivy traces its history to 1917 and quickly became a favorite with actors, thanks to its proximity to the theaters of London's West End. Over the decades, it has remained a favorite of celebrities, though the current incarnation dates to 1990, when it was created by restaurateurs Chris Corbin and Jeremy King.
They sold it and went on to open the Wolseley, another celebrity haunt. It is now owned by the entrepreneur Richard Caring. Peire, who was born in Gibraltar and educated at the Latymer Grammar School in London and at Manchester University, joined in 1990 as Senior Maître d'. He quit after eight years and returned in 2007 as director.
If you have never been to the Ivy, you may be surprised. 

First, the menu is filled with comfort food. It is not a gastronomic restaurant. Second, it is not expensive. Many of the starters cost less than 10 pounds ($15). The burger is 13.75 pounds; Pimm's Royale jelly with lemonade sorbet is 8.75 pounds.
Third, it is not snobby. The service is friendly. It feels like a private club. (But the Club at the Ivy, which opened next door in 2008, siphons off some of the regulars, so it is easier for the rest of us to get a table.)
Just don't push your luck in arguing for a better table, or trying to take a snap of a celebrity, or seeking any kind of special treatment. Peire, while he is disarmingly charming, has several red lines that cannot be crossed.
"The things that people ask for that we absolutely refuse to do are things that impinge on everyone else's enjoyment," he says. "For example, a birthday cake with candles, because you know that as soon as you've got a candle lit, they're all going to start singing that bloody song. And then there's the, 'Can we have balloons around the table?' Or, 'I've brought a candelabra.'"
No.
"What gets us really going is when people say it's my daughter's 20th birthday and I'd like to do something really special for her. And we say, 'You're bringing her to the Ivy. Isn't that special enough?' Well, is there anything else you can do?" Peire laughs. "And I think maybe I could take my clothes off and do a dance."  

Before it's here, it's on the Bloomberg Terminal.
LEARN MORE