Rand Paul's Army Gathers in the Capitol to Help Him Block Patriot Act
The Kentucky senator's allies in the House are ready to block the bill with him.
By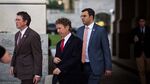 Shortly before 5 p.m., when Rand Paul took the Senate floor, his allies outnumbered his opponents. Michigan Representative Justin Amash and Kentucky Representative Thomas Massie sat in benches at the back, silently rooting on the Kentucky senator, whom they'd already endorsed for president. At least 30 young people wearing red and black "Stand With Rand" T-shirts sat transfixed in the public gallery. No supporter of the Patriot Act or the USA Freedom Act stayed around for Paul's opening speech of the debate. The "Stand With Rand" crowd did.
"The president Obama who once was against the Patriot Act, the President Obama who once believed in the Fourth Amendment, is the same person now scooping up all your records illegally," said Paul.
When the senator wrapped, and photographers scrambled to find him, the young supporters stayed in their seats. They were anticipating a 6 p.m. round of votes that could gauge the support Paul had for blocking reauthorization of spying programs. Amash and Massie ambled into the hallway, a place they were ready to spend much of the night if the Senate passed a bill and threw it to the House.
"Technically, the House is able to act," said Amash.
"There can't be unanimous consent if one person objects," said Massie. 
"And we would object," said Amash.
That would effectively prevent any deal from passing both houses of Congress before the midnight expiration of the Patriot Act. Both men, who had endorsed Paul for president, had stayed around Washington for much of the recess, fretting about exactly this outcome. When the daily pro forma session was gaveled in, one or both of them would arrive to make sure nothing was rammed through.
"Would they do it? Yes," Massie said of the GOP leadership. "Have they done it before? Yes."
Amash, who had only briefly returned to his Grand Rapids, Michigan-centred district to attend a Purple Heart ceremony for a veteran, said the concern was warranted.
"The Speaker had made promises to various people, and our leadership had made promises to various people, that they wouldn't do anything," said Amash. "But when you have the Senate, the intel committees, and the intel community putting pressure on the speaker, I felt it was important to have a backstop."