Rand Paul's Army Gathers in the Capitol to Help Him Block Patriot Act
The Kentucky senator's allies in the House are ready to block the bill with him.
By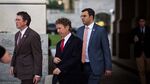 Shortly before 5 p.m., when Rand Paul took the Senate floor, his allies outnumbered his opponents. Michigan Representative Justin Amash and Kentucky Representative Thomas Massie sat in benches at the back, silently rooting on the Kentucky senator, whom they'd already endorsed for president. At least 30 young people wearing red and black "Stand With Rand" T-shirts sat transfixed in the public gallery. No supporter of the Patriot Act or the USA Freedom Act stayed around for Paul's opening speech of the debate. The "Stand With Rand" crowd did.