politics
Scott Walker Has Early Lead in Iowa Poll as Jeb Bush Faces Challenges
Marco Rubio is a popular second choice, a potential indication of strength if he can convert that support to his own.
By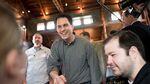 Wisconsin Governor Scott Walker has expanded his early lead in Iowa, while former Florida Governor Jeb Bush continues to face headwinds and Senator Marco Rubio of Florida shows upside potential in the state that hosts the first 2016 presidential nomination balloting.
A new Bloomberg Politics/Des Moines Register Iowa Poll shows more than a third of likely Republican caucus participants say they would never vote for Bush—one factor in a new index to assess candidate strength in such a crowded field. Forty-three percent view him favorably, compared to 45 percent who view him unfavorably. 
Read the poll questions and methodology here.
Walker is backed by 17 percent as the state enters a busy summer of candidate visits, a planned straw poll, and campaigning at the Iowa State Fair. Tied for second are Senator Rand Paul of Kentucky and retired neurosurgeon Ben Carson at 10 percent, with Bush and former Arkansas Governor Mike Huckabee next at 9 percent each. 
They're followed at 6 percent by Rubio and 2012 Iowa caucuses winner Rick Santorum, a former senator from Pennsylvania. With eight months to go before the 2016 caucuses, there's plenty of time for movement.
"Scott Walker's momentum puts him solidly in first place," said J. Ann Selzer, president of West Des Moines-based Selzer & Co., which conducted the poll. "For the time being, he's doing the right things to make the right first impression."
In the previous Iowa Poll, taken in January, Walker stood atop the field at 15 percent.
Walker shouldn't count on an Iowa win just yet, especially with such a large and unsettled field. Four years ago, former Massachusetts Governor Mitt Romney and then-Minnesota Representative Michele Bachmann sat atop the Iowa Poll at 23 percent and 22 percent. Romney ultimately finished a close second in Iowa, while Bachmann ended up sixth and exited the race the following morning.
Rubio's potential

The latest poll shows Rubio is the most popular second choice at 12 percent, an indication of potential strength. Among first-choice preferences, the junior senator from Florida doubled his showing since the Iowa Poll in January.
When first and second choices are combined, Rubio ranks second to Walker, 18 percent to 27 percent. "That may foreshadow growing stature," Selzer said of Rubio.
Rounding out the rest of the declared and likely Republican field for first-choice preferences, Senator Ted Cruz of Texas is at 5 percent, businessman Donald Trump and New Jersey Governor Chris Christie are at 4 percent, former Texas Governor Rick Perry is at 3 percent, former Hewlett-Packard CEO Carly Fiorina and Ohio Governor John Kasich are at 2 percent, and Louisiana Governor Bobby Jindal and Senator Lindsey Graham of South Carolina are at 1 percent. Former New York Governor George Pataki's support was less than 1 percent.
When first and second choices are combined, those with the strongest showings after Walker and Rubio are Huckabee at 17 percent, Bush at 16 percent, and Carson and Paul at 15 percent.
At this early stage, Bush ranks first with none of the demographic groups broken out in the poll's results, although he is second behind Walker among those 65 and older, college graduates, and Catholics.
The survey, taken Monday through Friday, included 402 likely Republican caucus participants. On the full sample, it has a margin of error of plus or minus 4.9 percentage points.
Walker's home-state proximity to Iowa appears to be helping him. His strongest support in the state, 20 percent, came from the 1st Congressional District, which borders Wisconsin. 
"We get a lot of Wisconsin news, and I'm pleased with what he's done there," said poll participant Luann Rolling, 55, a federal government worker from the northeast Iowa community of Waterville who is leaning toward supporting Walker.
Rolling, who supported Santorum in the 2012 caucuses, said she isn't necessarily opposed to organized labor, but likes that Walker took on Wisconsin's public-sector unions. "He took a stance—and it was a fairly unpopular stance—and he pursued it," she said.
Unprompted, poll participant John Accola, 69, a retired federal employee from suburban Des Moines, said he likes Walker partly because the governor doesn't have a college degree.
"It would be refreshing to have a non-university graduate running the country," said Accola, adding that he himself finished college. "There is a difference between education and intelligence and wisdom."
Walker dropped out of Marquette University in Milwaukee. He's said he was offered a job his senior year and took it.
If the Republican field remains this large and fractured, Walker may be approaching the 20 percent total some analysts have theorized could be enough to win the state. He isn't expected to even formally enter the race until about a month from now and could start drawing more attacks from potential rivals if he rises in polls.
The Selzer Score
To offer another assessment of candidate strength—difficult to divine in such a crowded field—Selzer created an index built on multiple measures in the poll.
"You have 100 percentage points to distribute, and if it's across 16 candidates, many will sink to the bottom, and that hides the potential those candidates hold to build a following," she said.
The index takes into account first and second choices, as well as a question that was asked on whether respondents could ever—or would never—support each candidate they didn't name as their first or second pick. First choices were given double weight, while "ever support" was given a half weighting.
"It creates more distance between candidates," Selzer said. "It's a more rounded view of who are the leaders and potential leaders."
Using that system, Walker is far ahead, scoring 64.5. He's followed by Huckabee at 51.5, Carson and Rubio at 48.5, Paul at 47.5, Bush at 44, Santorum at 43.5, Cruz at 42.5, Perry at 39, and Christie at 29. Not making the index's top 10 are Jindal, Fiorina, Trump, Kasich, Graham, and Pataki, in that order.
The index and never/ever question show some of the declared and likely candidates could struggle to expand their support. More than half of likely Republican caucus participants, 58 percent, say they would never support Trump. Next in that negative assessment are Christie at 45 percent, Graham at 43 percent, and Pataki at 41 percent.

Paul dominates among independents likely to attend the Republican caucuses. That group represented 28 percent of poll participants, and Paul is their clear favorite, securing 21 percent of support, followed by Walker at 11 percent. Paul's support from independents is a key reason he's in the top tier of candidates in Iowa, as is his strength among those under age 45, a group where he gets support from 19 percent—the most of any candidate.
Fiorina has seen her popularity rating surge following her May 4 announcement that she was entering the race. She's now at 41 percent favorable, a 26-point increase from her 15 percent standing in January, when most couldn't even offer an opinion about her.
Male respondents were more favorable toward Fiorina than women, 43 percent to 38 percent. That contrasts with Democratic nomination front-runner Hillary Clinton, who typically draws stronger support from women.
Examining the advantages and disadvantages of the only woman in the Republican field, 71 percent of poll participants said Fiorina's gender wasn't important to them in deciding whether to support her. A strong majority, 65 percent, said her experience as chief executive officer of Hewlett-Packard was important to them, while 70 percent said they weren't concerned by the fact that the computer company ultimately fired her.
The fact that Fiorina has aggressively taken on Clinton is important to 72 percent of likely Republican caucus participants in their considerations of whether to support her.

Almost six in 10 said it's important that she's a Washington outsider and 59 percent said it's not important that she's never held elective office. On potential lines of attack against her, 48 percent said it was important to them that she had outsourced American jobs, while 44 percent said that about the fact that she laid off 30,000 employees as CEO.
Walker, Rubio, and Huckabee are the only ones with favorable ratings at or above 60 percent. About two in three rate Walker favorably, the highest in the field. At 31 percent, he also has the highest level for those who say they feel very favorable toward him, followed by Carson at 24 percent.
Wendy Larson, 44, a stay-at-home mother from Odebolt who plans to participate in the caucuses for the first time, said she's leaning toward Carson and is impressed by his life story, rising from poverty to become a pediatric neurosurgeon.
"I like that he's not a politician," she said. "He has solutions that I think are realistic, and he's not afraid to say what he thinks."
One common complaint among Republicans—that President Barack Obama was a first-term senator with no executive experience when he first took office—doesn't appear to be hurting Cruz, Paul, or Rubio, the three freshman senators in the field. Roughly three-quarters said that makes no difference to their support.
Before it's here, it's on the Bloomberg Terminal.
LEARN MORE