Unions Drawing Line in Sand With Hillary Clinton, Democrats on Trade Deal
As the clash moves toward a vote in the House of Representatives, the union is beginning to pressure Democrats directly
By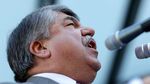 The AFL-CIO, the largest labor federation in the United States, is typically allied with Democrats, but today finds itself moving away from the Democratic president over Obama's proposed trade pact.
In an interview with Susan Page of USA Today, Richard Trumka, the union's president, on Friday warned Democratic front-runner Hillary Clinton that the wrong position on the Trans-Pacific Partnership could cost her much union support.
"She's going to have to answer that," Trumka said of her position on the Trans-Pacific Partnership. "I think she won't be able to go through a campaign without answering that and people will take it seriously and it will affect whether they vote for her or don't vote for her."
As the clash moves toward a vote in the House of Representatives—which Trumka predicted would fail—the union is beginning to pressure Democrats directly. The AFL-CIO, the New York Times reported Friday, has launched an aggressive ad campaign against Democrats who support the president on the pact.
One targets the North Carolina district of Representative David Price, saying the trade deal "kills jobs, drives down wages, weakens competition."
Another ad goes after Representative Ami Bera, whose California district consists of eastern Sacramento County. "Congressman Ami Bera will do anything to keep his job, including shipping your job overseas," the narrator states ominously. "He's supporting so called fast-track trade authority, same kind of trade deal that's already meant millions of lost jobs—good middle-class jobs."
Unions have already frozen political contributions to apply pressure against the deal.
When Clinton announced her presidential campaign in mid-April, Trumka released a statement lauding her "long and distinguished career in public service," and looking forward to a national discussion "about how to solve the problems of income inequality and improve the lives of every working person in our great country." Then in a speech later that month at the AFL-CIO headquarters in Washington, just a block from the White House, he sounded much less sunny:
But, now what? After almost two generations of intentional assault on our incomes, our families and our dignity, working people are not going to be satisfied with words of acknowledgment. We want action.  We want big ideas, and we want structural change.

[...] That also means no candidate can be all things to all people and still meet this standard. Standing with working people once in a while won't work. Candidates can't hedge bets any longer.
Clinton, who hedges bets by biding time, may want to take that to heart.
Trumka told Page, "She may not know whether it's a good deal or not, but she'll get a chance to read it, and when she does then she'll have to declare. One way or the other. She either will support it or she wouldn't support it. She either believes in Fast Track or she doesn't."
And if she doesn't? "It would be tougher to mobilize working people." He underlined that politicians will be held accountable by labor for their position on trade. And yes, the AFL-CIO tilts Democratic, of course. But, Trumka said, "If a candidate doesn't have the right policy, you can not endorse for president."