An Umbrella for Two-Wheeled Road Warriors
An umbrella for your bike? Mary Poppins would love it
By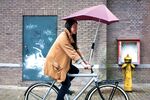 Innovator: Gerwin Hoogendoorn
Age: 35
Co-founder of umbrella maker Senz in Delft, the Netherlands
Form and function
Senz's asymmetrical umbrella, designed to withstand winds of up to 70 miles per hour without breaking or flipping inside out, can now be mounted on a bike to keep cyclists dry.
1. Biking: Bicyclists attach the $70 umbrella-holding tube to their handlebars at about a 20-degree angle. That keeps them dry, minimizes resistance, and prevents them from sailing into the air like Mary Poppins.
2. Walking: The short side should face into the wind unless rain is coming from behind. If held loosely, the umbrella will swivel to find its best orientation.
Origin
Hoogendoorn, an industrial designer, co-founded Senz in 2005 after creating an aerodynamic umbrella for his master's thesis at the Delft University of Technology. His team began working on the bike attachment in 2013.
Availability
The umbrellas are sold online by retailers including Amazon, Brookstone, and Neiman Marcus. U.S. shoppers can buy the mounts only on Senz's site.
Funding
Hoogendoorn and his two co-founders started Senz with an $11,000 grant from Delft University. They say their 25-employee company is profitable.
Sales
Senz says it's sold millions of its umbrellas, which cost from $80 to $100, depending on size. The company plans to add new styles each season.
Next Steps
Senz has sold only a few thousand umbrella holders since they went on sale last March. Hoogendoorn says he expects bike commuters to buy them in larger numbers once they see early adopters riding with the mount, but he doesn't use it himself. "I'm very experienced at bicycling with one hand and holding my umbrella with the other," he says.
Before it's here, it's on the Bloomberg Terminal.
LEARN MORE