Young Indian Engineers Turn to Manufacturing
The country has technical skills, but capital is hard to find
By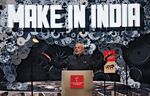 When Kislay Pankaj graduated from one of the Indian Institutes of Technology in 2013, he thought about getting a master's in engineering in the U.S. His parents urged him to join the Indian Administrative Service and eventually become a top civil servant. Instead, Pankaj ignored both well-worn paths to success, turned down an offer from an Internet company, and took a job at a manufacturing startup.
Indian companies make steel, autos, and pharmaceuticals, but the country remains weak in manufacturing. From 1986 to 2013 manufacturing barely advanced from almost 16 percent of gross domestic product to 17.3 percent, according to World Bank figures. In China, manufacturing is 42.6 percent of GDP: The Indian government has announced a target of 25 percent. A 2006 report called for a national strategy, noting that manufacturing was "stagnating" largely because of "the inability of the country to build and maintain competitiveness."
Prime Minister Narendra Modi has gone from one world capital to another in his first year in office promoting his initiative, Make in India. It offers foreign manufacturers inducements such as fast clearance of the bureaucratic hurdles that can hobble foreigners seeking to do business in India. Modi wants to shed India's image as a cluster of call centers and outsourcers surrounded by decrepit infrastructure and endemic corruption. In a World Bank country ranking for ease of doing business, India is below Uzbekistan, Yemen, and Pakistan and just above the West Bank and Gaza.
The success of Modi's program depends in part on people like Pankaj and his boss Swapnil Jain. In December 2013, Pankaj got an e-mail from Jain, a stranger who'd read an article online that Pankaj had written about electric-powered motors. Jain asked to meet in a coffee shop in Bengaluru (formerly known as Bangalore). One year out of college, Jain had co-founded a company, Ather Energy, to make electric scooters. The pair talked for two hours. That day Jain asked Pankaj to become Ather's first full-time employee.
Jain and his co-founder Tarun Mehta got 500,000 rupees ($7,815) in seed funding through the Indian Institute of Technology Madras, their alma mater. Sachin Bansal, co-founder and chief executive officer of Flipkart, India's largest online retailer, invested $1 million along with his partner for an undisclosed stake in Ather. Without startups like Ather, "India will be sluggish at best when it comes to innovation and growth," Bansal said in an e-mail. Jain and Mehta say venture capitalists often ask why they don't just buy vehicles from China and outfit them with the battery pack they developed. Their answer: If Ather did that, it would be hard to develop better versions. "Some of them will say you are fools," Jain says. "Others will be more polite and say, 'Let's see.' "
Mehta and Jain say the preference of Indian business to squeeze profits from products they import instead of building their own is a stumbling block to innovation. If you have a strong idea and a business plan, Mehta says, there's opportunity—salaries are low in India, and local suppliers know how to machine parts. Yet "Make in India isn't happening" on a large scale, Mehta says, "because no one is freaking designing anything." As part of Make in India, the government offers an exemption on customs duties for lithium battery cells used in electric and hybrid vehicles. There are also subsidies for buyers of such vehicles. Ather could benefit from both.
After several prototypes, the startup says it is close to rolling out a scooter that can charge its battery in 90 minutes and can travel just above 46 miles an hour, passing the top model from Hero Electric, the market leader. This performance is possible, Ather's engineers say, because they designed their own battery pack, which is filled with lithium ion battery cells made abroad.
The scooter's styling is inspired by the sleek look of racing motorcycles, and the touchscreen dashboard allows a driver to adjust speed and use other performance features with ease. It's a far cry from the plain, squat scooters that clog India's roads and never hit 30 miles per hour.
Ather designed its scooter in Chennai and Bengaluru, aided by a full-size clay model and computers that can show 3D images of parts for virtual inspection before specifications are sent to manufacturers. About 80 percent of the parts are made in India, says Mehta.
Even with the subsidy to buyers, the scooter's target price is about 75,000 rupees—32,000 rupees more than Hero's top model and about 3,000 rupees more than a recently advertised Honda motorcycle. Mehta says Ather will sell to high-end scooter fans and smart-technology enthusiasts, then broaden from there. Mehta says an assembly line should open next year in Bengaluru, with sales starting soon after.
The bottom line: Indian manufacturing as a share of GDP has barely risen, from almost 16 percent in 1986 to 17.3 percent in 2013.
Before it's here, it's on the Bloomberg Terminal.
LEARN MORE