Porsche's Wealthy Buyers in China Choose Cheaper Models
It's become the carmaker's No. 1 market, just as buyers tighten up
Christoph Rauwald and Ying Tian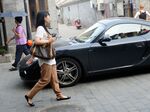 Newly minted Chinese millionaires have long heralded their status by buying big, expensive cars such as Porsche's Cayenne SUV. The penchant of rich mainlanders for flaunting their wealth is a big reason that China is set to dethrone the U.S. as the luxe automaker's biggest market this year.
But after a government crackdown on graft and conspicuous consumption, growth in luxury-car sales is slowing, and Chinese buyers are settling for less opulent models. That could spell an end to the gold rush for brands such as Porsche, BMW, and Audi, which have relied on China for about 50 percent of their global profits, estimates Sanford C. Bernstein.
"The enormous growth rates luxury-car makers like us have seen in China in recent years won't continue," Porsche Chief Financial Officer Lutz Meschke said in May in Atlanta, where the sports-car maker was unveiling a test track and customer center to foster U.S. interest in the brand. "We have to adapt to that."
Since 2010, Porsche has tripled sales in China, to almost 47,000 vehicles, last year. The 558,000 yuan ($90,038) Macan—42 percent cheaper than the 972,000 yuan Cayenne—will sustain growth rates of about 20 percent this year, lifting overall Porsche sales to almost 60,000, beating the 53,000 in the U.S., according to IHS Automotive. But in 2016, the gains in China could fall below 5 percent.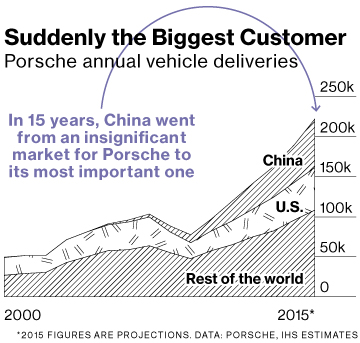 As Chinese buyers of luxury cars became more price-sensitive, Porsche equipped the Macan compact SUV with a four-cylinder engine, the carmaker's first since the 1990s. The small motor cuts Chinese taxes due on the car by 30 percent. "The era of Chinese consumers simply going for the most expensive models is bygone," says Su Hui, a representative of the China Automobile Dealers Association. "Affluent people are becoming more low-key."
There are similar downshifts at other high-end marques. BMW began making the X1 compact crossover in China in 2012; Mercedes-Benz will build the rival GLA there this year. The brands previously focused on extended-wheelbase sedans for their often-chauffeured Chinese customers. "China is turning into a much more mature market," Audi Chief Executive Officer Rupert Stadler said in May. "Competition will intensify" as the anticorruption drive saps demand for luxury rides, he said.
China remains a lucrative market. The Cayenne's base price there is the equivalent of about $156,800, more than double the U.S. starting price of $58,300. Although a large part of that goes to import duties and taxes, there's still a hefty profit built into mainland sales.
Luxury-car makers can also count on China's wealthy classes to keep growing. Consultant Capgemini forecasts that the number of Chinese with more than $1 million in financial assets will increase at double the rate in North America through 2016. They're also likely to buy cars over a longer time frame. Porsche's average Chinese customer is 35, vs. 53 in the U.S. Still, Sanford C. Bernstein analyst Robin Zhu says the days of "supernormal profitability" are over. On smaller cars like the Macan, "margins are lower than the big stuff."
The bottom line: Porsche sales in China tripled since 2010, to almost 47,000 vehicles last year. Now buyers are seeking its cheaper models.
Before it's here, it's on the Bloomberg Terminal.
LEARN MORE