L.A. Fans Pray for an NFL Team of Their Own
Five cities scramble for pro football as three teams weigh their options
By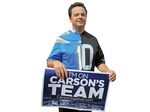 The crowd that descended on Carson's city hall on April 21 didn't come to hear about the Los Angeles suburb's dwindling coffers or appointments to commissions. Brandishing green foam fingers, fans of the Oakland Raiders came to bask in the expectation of ending football's two-decade-long absence from L.A.
On his first night as mayor of the working-class city of 90,000, Albert Robles swapped out his trademark split jersey with the colors of the Raiders and those of the San Diego Chargers for a business suit. After Robles and the other two council members cast their votes for a new $1.7 billion, 70,000-seat stadium, the mayor bellowed, "Football is coming to Carson!" The crowd roared its approval.
Yet football may not be coming to Carson or Inglewood, a suburb 12 miles from downtown L.A. that in February approved an almost $2 billion, 80,000-seat stadium. The second-largest metro area in the U.S. has been without a National Football League franchise since the Raiders and the Rams left in 1994, in large part because local leaders refused to make big-ticket renovations to their stadiums. Teams from Tampa, San Francisco, and Minneapolis have sniffed around L.A. since, but they eventually reached deals in their home cities.
This time the number of teams in play—the Raiders, the Chargers, and the St. Louis Rams—and efforts by team owners to secure land and approvals for Southern California stadiums have given the region's fans hope. "The reason we're here today is that the people in San Diego and Oakland are not doing their part to keep their teams there," Mike Haynes, a former Raiders defensive back and an NFL Hall of Famer, said at a Carson rally in March. "For me and for you, that's a crack in the door."
The morning after the Carson vote, NFL owners held a routine meeting in New York where they hashed out the possibilities. Among them: The Raiders and Chargers move to Carson, or just one of them does; the Rams move to Inglewood; or all three teams strike deals for new hometown stadiums and stay put. "A team in Los Angeles is still not a done deal," says Victor Matheson, a sports economist at the College of the Holy Cross in Worcester, Mass. "It's not over until the dirt starts moving."
Any or all of the teams may be flirting with L.A. to squeeze bigger public subsidies for new stadiums in their home cities. According to Matheson, San Diego, Oakland, and St. Louis would need to offer about $500 million to match the extra revenue an L.A.-area stadium would bring in through naming rights and seat licenses, which allow fans to lock in a particular perch for a season. With 18.1 million people, metro Los Angeles is larger than the San Francisco Bay area, greater San Diego, and St. Louis combined. Carson and Inglewood have vowed not to spend tax dollars on new stadiums.
The cities of Oakland, San Diego, and St. Louis aren't rolling over. On April 21, authorities in Oakland gave final environmental and zoning clearances for a site on which a stadium could be built to replace the 49-year-old Coliseum. Oakland Mayor Libby Schaaf has said she's committed to a deal provided it doesn't use tax revenue. Team spokesman Will Kiss declined to comment.
A panel appointed in March by San Diego Mayor Kevin Faulconer recommended a new venue near the 48-year-old Qualcomm Stadium where the Chargers play. The group suggested financing the 65,000-seat facility with funds from the Chargers, the NFL, the city and county of San Diego, and sales of land and bonds, without levying new taxes.
Mark Fabiani, the point man on the stadium for billionaire Alex Spanos, who owns the Chargers, says the team has tried to work out an agreement in San Diego for 14 years without success. He said the team is "extraordinarily pleased" with progress on the Carson site, yet it's also working on a deal in San Diego.
The Rams' owner, Stan Kroenke, bought land in Inglewood for a $1.9 billion stadium on the site of an old racetrack. At the NFL meeting in New York, Missouri's task force shared renderings of a proposed riverfront stadium in St. Louis to be partially financed with as much as $350 million in state bond proceeds. The stadium scramble is likely to end with a team or two in Southern California, says David Carter, who heads the University of Southern California's Sports Business Institute, adding "the key word being 'likely.' "
The bottom line: Two Los Angeles suburbs have approved big-ticket stadium projects in the hope of luring an NFL team.
Before it's here, it's on the Bloomberg Terminal.
LEARN MORE