Five Republicans Tie for First in Quinnipiac 2016 Poll
Jeb Bush, Scott Walker, Marco Rubio, Ben Carson, and Mike Huckabee each get 10 percent.
By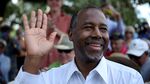 No fewer than five contenders are atop the crowded Republican presidential pack, according to a Quinnipiac University poll out Thursday. 
Former Florida Governor Jeb Bush, Wisconsin Governor Scott Walker, Florida Senator Marco Rubio, retired neurosurgeon Ben Carson, and former Arkansas Governor Mike Huckabee each get 10 percent support among Republican voters. Democratic front-runner Hillary Clinton leads every Republican she's tested against by 4 to 18 percentage points in hypothetical head-to-head contests.
Rounding out the top 10 are Kentucky Senator Rand Paul with 7 percent, Texas Senator Ted Cruz with 6 percent, real estate developer Donald Trump with 5 percent, New Jersey Governor Chris Christie with 4 percent, and former Hewlett-Packard CEO Carly Fiorina and Ohio Governor John Kasich tied at 2 percent.

While national polls do not necessarily predict the outcome of the primary process–early voting states heavily influence the contest by weeding out candidates–they will play a role in determining who will secure a spot on stage at the first Republican debate in August, hosted by Fox News.  The network says candidates must place in the top 10 in an average of the five latest national polls to be included.
Out of the top 10 in the Quinnipiac poll are South Carolina Senator Lindsey Graham, former New York Governor George Pataki, Louisiana Governor Bobby Jindal, former Texas Governor Rick Perry, and former Pennsylvania Senator Rick Santorum.
Paul and Rubio each trail Clinton in head-to-heads by 4 percentage points. She leads Huckabee by 7 points, Walker by 8 points, Christie by 9 points, Bush by 10 points, Cruz by 11 points, and Trump by 18 points. 
Among Democrats, Clinton has a wide lead with 57 percent. Vermont Senator Bernie Sanders came in a distant second with 15 percent. Vice President Joe Biden took 9 percent. Former Maryland Governor Martin O'Malley was tied with former Rhode Island Governor Lincoln Chafee and former Virginia Senator Jim Webb at 1 percent. 
The poll reached 1,711 registered voters from May 19-26. The margin of error was plus or minus 2.4 percentage points overall, plus or minus 3.8 percentage points for Republicans, and plus or minus 3.6 percentages for Democrats. 
Derek Wallbank contributed to this report.