College Rugby Shines Under TV Spotlight Created by 2016 Olympics
Mason Levinson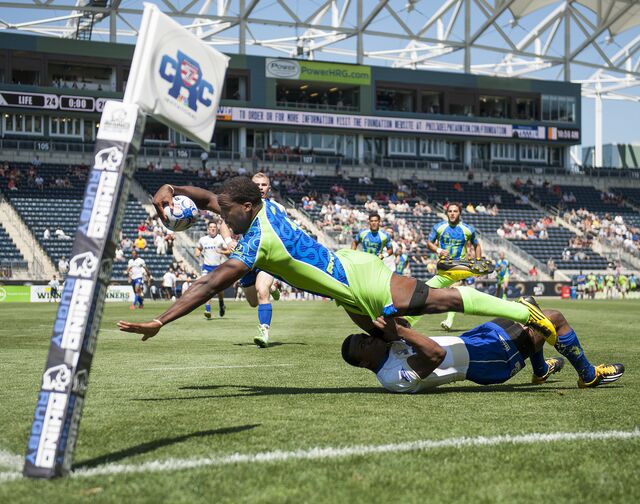 Glendale Raptors and Belmont Shore are two of America's best rugby clubs. They have something else in common.
"Nobody's heard of these and nobody cares," says Rich Cortez, USA Rugby's collegiate director. "But you've certainly heard of Colorado, Stanford, UCLA and Louisiana State."
Rugby's American overseers are using the branding power of U.S. colleges to raise awareness of a sport that next year will join the Olympic program for the first time since 1924. Governed outside the National Collegiate Athletic Association, there are about 900 men's or women's U.S. college rugby programs, 100 more than when the sport was added to the Rio de Janeiro Games in 2009.
Rugby in the U.S. has been an upside-down pyramid for generations, sparse on youth participation and heavy on senior players lacking experience. The Olympic spotlight is bringing more interest to colleges in the middle.
"Whether you're going up or down the pipeline, collegiate rugby is really that linchpin," said University of California coach Jack Clark. "I don't believe we'll achieve our potential without a very strategic plan for collegiate rugby. It works downward into high schools, and it'll help develop the national team."
The Collegiate Rugby Championship, or CRC, is one of those strategies, created by Comcast Corp.'s NBC Sports and United World Sports in 2010 after the sport was added to the Olympics. Like the Olympic format, it features a seven-player-per-side version of rugby that is wide open, fast paced and just 14 minutes in duration. Rugby 15s, which takes 80 minutes, is a grinding game that's more of a chess match.
Olympic Effect
Clark, who's coached Cal to 22 national titles in 15s and the past two CRC crowns, credits Olympic inclusion with reinvigorating a sport that's long struggled to brand itself, operating "outside that sporting complex."
"Those five rings just reek of sporting credibility," Clark said in a phone interview. "I don't think we've ever been as well positioned as we are right now."
In its sixth year, the CRC is set for Saturday and Sunday at PPL Park in Chester, Pennsylvania, home of Major League Soccer's Philadelphia Union. For the first time, the tournament has a title sponsor in Penn Mutual Life Insurance Co., and it expects to draw more than 20,000 fans. NBC Sports will air 11 hours, including 3 1/2 on NBC.
The network began discussing rugby in the year before the Olympic designation, according to Jon Miller, president of programming for NBC Sports and NBCSN. It's now "fallen hard" for it, he said. The U.S. television home of the Olympics has become the most prominent TV destination for rugby, airing several tournaments and matches, including another college event, the Varsity Cup.
Growing Participation
"When you can find a property that has a really passionate, rabid following and you can go deep with it, it stands you in good stead," Miller said in a phone interview.
U.S. rugby participation grew 13.3 percent over the last five years, more than any other sport, according to Sports & Fitness Industry Association data. Lacrosse, with 11.7 percent growth, was second. The 2014 CRC final on NBC had an average audience of 427,000 people, according to Nielsen data. The men's college lacrosse final was seen on ESPN2 by 304,000.
USA Rugby, headquartered in Boulder, Colorado, oversees the College 7s National Championships, an event that was created in 2011 and moved to May this year from December. Held last week in Denver, Lindenwood University of St. Charles, Missouri, won the men's title and Penn State took the women's.
"The CRC is very good for the sport" though "not a true national championship" because of the absence of a complete qualifying process, said Cortez of USA Rugby.
ESPN Expectations
The College 7s aired on ESPN's online platform and next year Cortez said he expects it to move to ESPN or ESPN2 with many more hours of coverage.
"Money isn't rolling into the sport, but it's changed," Cortez said. "Three years ago nobody would listen to us and we had to pay for everything."
There are nine men's and 15 women's varsity college programs. At Cal, for example, it is a varsity sport that is part of the athletic department, though there are no scholarships.
Women's varsity teams are likely to double in the next year, largely because of Title IX considerations and the fact that a scholastic model can help draw talent to the game, according to former Dartmouth coach Alexander Magleby, USA Rugby's performance director.
While there are natural ties between rugby and football -- the CRC will run a "smart tackling clinic" with former NFL players -- Magleby said the sport fits many athletic types. At Dartmouth, a two-time CRC champion, he coached crossovers from soccer, lacrosse, even downhill skiing.
"They're so used to getting back in a power position in a chaotic environment, and that's what much of sport is," Magleby said.
Before it's here, it's on the Bloomberg Terminal.
LEARN MORE