Larry Fink Has One Big Headache
The BlackRock chief tries to fix his actively managed stock funds
By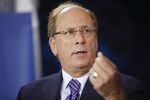 Chief Executive Officer Larry Fink said last year that he'd spent "hundreds of millions of dollars rebooting" BlackRock's stockpicking business. He still has work to do. Of the company's 84 actively managed U.S. equity funds, 70 ranked in the bottom half of their categories over the past five years, according to data from research firm Morningstar. Clients have noticed: In 19 of the past 21 quarters they've pulled money from BlackRock's actively managed U.S. and international equity funds, whose assets declined to $292.8 billion at the end of 2014, from $334.5 billion in 2010, a period when the Standard & Poor's 500-stock index soared more than 60 percent. "We've had to make some tough decisions and had quite a lot of pain in outflows," says Quintin Price, head of the company's Alpha Strategies group. "It's not about outperforming every single quarter. It's outperforming over time."
BlackRock's stock funds are the one big headache left for Fink. The rest of his businesses are flourishing. His 2009 acquisition of Barclays Global Investors, a leader in exchange-traded funds, put BlackRock in position to benefit from the public's increasing preference for "passive" investments such as ETFs, almost all of which track indexes. BlackRock, which manages $4.8 trillion, sold more ETFs than any of its competitors last year, attracting $102.8 billion to bring its ETF assets to $1.1 trillion. In 2012, Fink reorganized the company's bond unit, which had performed poorly during the financial crisis. Returns improved, and since the end of 2012, BlackRock's actively managed fixed-income funds have attracted $48 billion, compared with $24.8 billion gathered by its bond ETFs.
Pacific Investment Management Co., best known for its bonds, on May 14 said it was liquidating some equity funds and that its equity chief investment officer would leave. Persuading investors to put money into actively managed stock funds is important for BlackRock and other money managers because they're more profitable than ETFs and index mutual funds. The average expense ratio for BlackRock's active equity mutual funds is about 1.5 percent, more than triple the average fees charged by ETFs at BlackRock and across the industry, according to Morningstar.
In 2012, BlackRock embarked on a five-year plan to improve performance, hiring top stockpickers and adding analysts and other support staff to investment teams. "We're benefiting from the big macro trend out of the active into passive, and yet I'm probably investing more money on active than I have in years," Fink said at a financial conference in May 2014. Last year, BlackRock hired Christopher Jones from JPMorgan Chase to replace Chief Investment Officer Chris Leavy, who went on medical leave in 2013. Leavy had brought in money managers such as Bartlett Geer from Putnam Investments and UBS's Lawrence Kemp. "It's a long process of building out the team," Fink said in a January interview.

Some of the moves have had an impact. BlackRock has increased the percentage of funds in the Americas that are beating the median performance of similar funds over the past three years, to 40 percent as of March 31, from 23 percent on March 31 of last year. In the Asia-Pacific region, that number rose to 87 percent this year, from 75 percent last year.
Although studies have shown that most active funds don't outperform index funds and ETFs over time, Fink is betting active investing will stage a comeback. Picking stocks will matter more, he says, once the broad bull market starts to fade. "If you believe in a world that one day, you will have—whenever that day will be—higher rates, it generally means, historically, you would think this is a better environment for stockpicking in fundamental equities," he said on a January call with investors. "Our model is purposely built and positioned to benefit on this active and passive world."
The bottom line: Assets in BlackRock's actively managed stock funds declined to $292.8 billion at the end of 2014.
Before it's here, it's on the Bloomberg Terminal.
LEARN MORE