Joe Biden Lauds Ireland Same-Sex Marriage Vote
There's more work to be done in the U.S., the vice president says.
By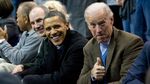 Vice President Joe Biden on Wednesday praised Irish voters for making their country the first to legalize same-sex marriage by popular vote.
"Last weekend, more than 1.2 million Irish voters took a courageous stand for love and family when they overwhelmingly chose marriage equality," Biden wrote in an op-ed for the Advocate, a magazine focused on LGBT issues. "They recognized the fundamental truth that every person is entitled to dignity and respect, and that there can be no justification for the denigration or persecution of anyone because of who they love or who they are."
Noting Ireland's rapid shift in the past two decades, Biden said that will a lot of progress has been made in the United States, "there is still work to be done."
"There are still too many nations that deny people even the right to be safe from violence and severe discrimination, and too many states here in America that allow a person to be fired simply for being lesbian, gay, transgender, or bisexual," he wrote.
The U.S. Supreme Court is expected to make a ruling by the end of June that could legalize same-sex marriage nationwide. An April Washington Post-ABC News poll found that 61 percent of Americans support allowing gays and lesbians to marry legally.