politics
Chris Christie Says He Supports Limiting Republican 2016 Debate Fields
He would make the cut, a recent poll analysis by the Washington Post found.
By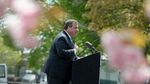 New Jersey Governor Chris Christie, a Republican trying to claw his way into the top tier of 2016 hopefuls, said he supports limiting the number of people taking part in the party's primary debates.
The 52-year-old governor said during a Wednesday appearance on Fox & Friends that he's fine with a plan by the Fox network to winnow the crowded Republican field by allowing the top 10 finishers in the average of the five latest national opinion polls to participate in an August debate in Cleveland. As many as 18 hopefuls have expressed interest in seeking the party's nomination.
As of last week, when Fox announced its guidelines, Christie would make the cut, according to a Washington Post analysis.
"You've got to have some sense of limit on it because no one will get a chance to speak if you have too many people up there," he said. 
Christie said during the interview he plans to make his intentions known next month, and spent much of the session defending his support for the Patriot Act and domestic surveillance.
Before it's here, it's on the Bloomberg Terminal.
LEARN MORE