Carly Fiorina Says the Chinese Aren't 'Terribly Imaginative'
The presidential candidate and former Hewlett-Packard CEO argues that innovation, risk taking, and imagination are "distinctly American" traits.
By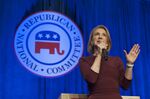 According to Carly Fiorina, the Chinese people suffer from a creative block. 
In a video filmed by the Iowa political blog Caffeinated Thoughts before she announced her presidential candidacy, Fiorina explains her opposition to Common Core educational standards by noting a key rationale for instituting the federal benchmarks.
"I also think the argument for Common Core is frequently, 'oh, we've got to compete with the Chinese,'" Fiorina said. "I've been doing business with the Chinese for decades and I will tell you that yeah the Chinese can take a test, but what they can't do is innovate. They're not terribly imaginative. They're not entrepreneurial. They don't innovate—that's why they're stealing our intellectual property."
Published by Buzzfeed News on Tuesday, the video comes to light the same week that South Carolina Senator Lindsey Graham asserted that "Iranians cheat and they lie."
Fiorina added that, in contrast to the Chinese, America needed an education system that inspired creativity. 
"One of the things we have to maintain about our school system, which comes with local control, is to teach entrepreneurship, innovation, risk taking, imagination. These are things that are distinctly American, and we can't lose them," Fiorina said.