Lindsey Graham Knows the 'Iranians Are Lying' Because His Parents Owned a Pool Room
The South Carolina senator drew on his own childhood experiences to conclude that "Iranians cheat and they lie."
By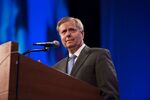 South Carolina Senator Lindsey Graham learned a few things in the pool room operated by his parents. 
In a video address to this weekend's Southern Republican Leadership Conference during which he made his case as a potential presidential candidate, Graham asserted that his experiences dealing with the clientele of his parents' business taught him that "the Iranians are lying" when it comes to the ongoing nuclear negotiations with the Obama administration. 
"My family owned a restaurant, a pool room, and a liquor store, and everything I know about the Iranians I learned in the pool room," Graham said in the video. "I ran the pool room when I was a kid and I met a lot of liars, and I know the Iranians are lying."
Later in his address, Graham doubled down on his characterization of Iranians. 
"The Iranians cheat and they lie. They are a radical regime," he said. "They want a master religion for the world; the Nazis wanted a master race." 
Graham's off-the-cuff anecdote did not sit well with the National Iranian American Council, which started a petition to protest what it called Graham's "racist, anti-Iranian remarks." 
I am outraged by the repulsive comments you delivered for the Southern Republican Leadership Conference in which you called Iranians liars.

The fact that you are basing important national security decisions on your experiences working in a pool hall is troubling enough. But stereotyping an entire people as "liars" based on these experiences is racist and completely unacceptable.

I call on you to immediately retract your comments and apologize for these bigoted remarks.