business
Floods in Houston Stop Transportation, Close Schools
Richard Stubbe and Harry R. Weber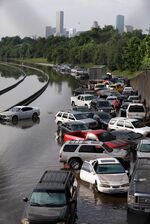 More than 10 inches of rain flooded Houston Tuesday morning, closing freeways, prompting the suspension of all public transit and leading to three deaths.
The flooding concluded a stormy weekend across Texas and Oklahoma that left 11 people dead and 12 missing, according to Associated Press reports. The storm was part of a system that swept east from central Texas, where it caused flooding in downtown Austin and the surrounding area Monday. Thirteen people were killed in a tornado in Ciudad Acuna, Mexico, near the Texas border.
In Houston, conditions began to improve late Tuesday morning. Houston TranStar, which monitors regional traffic conditions, listed more than 20 high-water locations slowing or stopping traffic, down by about half from overnight. Houston Metro began reopening some rail and bus service after suspending all operations early Tuesday. News reports showed vehicles abandoned in high water throughout the city.
Most Houston school districts canceled classes for the day. The storms also caused power outages. CenterPoint Energy reported 50,000 customers without power at 11 a.m. local time, down from more than 80,000 overnight.
Homes, apartments and cars along Brays Bayou in southwestern Houston were flooded up to their roofs. The Houston Fire Department used a boat to evacuate a cancer patient who was stuck in his flooded SUV and needed treatment. Residents were trapped in their homes as up to 10 feet of water in places filled the streets and surrounded buildings.
The Fire Department was dispatched overnight to 131 water rescues, the Houston Chronicle reported.
Buffalo Bayou, west of downtown, overflowed its banks and flooded Memorial Drive and Allen Parkway, two major thoroughfares.
Before it's here, it's on the Bloomberg Terminal.
LEARN MORE