Club for Growth Attempts to Troll Alan Grayson into Florida Senate Race
Progressives, meet your right-wing best friends.
By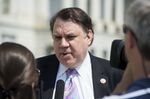 National Democrats are not subtle about it: They want Representative Patrick Murphy, a young Republican-turned-Democrat who holds a swing seat in south Florida, to be the party's U.S. Senate nominee. They want a frictionless primary, or no primary at all. They do not want Representative Alan Grayson, a smart and abrasive progressive from the Orlando area, to make a run against him.