Club for Growth Attempts to Troll Alan Grayson into Florida Senate Race
Progressives, meet your right-wing best friends.
By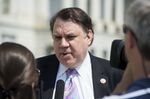 National Democrats are not subtle about it: They want Representative Patrick Murphy, a young Republican-turned-Democrat who holds a swing seat in south Florida, to be the party's U.S. Senate nominee. They want a frictionless primary, or no primary at all. They do not want Representative Alan Grayson, a smart and abrasive progressive from the Orlando area, to make a run against him.
The Club for Growth very much wants a Murphy-Grayson battle. In a new ad—part of a "$1 million campaign" that has mostly targeted Republican incumbents—the big-money conservative group tells Floridians that Grayson is right and Murphy rank on that surprise right-wing chimera, the Export Import Bank. Grayson opposes it, having called it a program of "paying foreigners to take away U.S. jobs." Murphy, who has voted when possible with business interests, supports it.
In an accompanying statement, Club for Growth president David McIntosh beats the bass drum of populism. "Congressional Democrats, like Patrick Murphy, are in virtual lockstep in their support for the big corporate special interests that gain taxpayer-provided financing from the Export-Import Bank," he says. Yet it's more than clear that the Club also wants to accentuate progressive divisions in the Democratic Party. The Ex-Im Bank hasn't ranked high on Grayson's list of problems with Murphy—he's more worried that a candidate who talked positively of the Bowles-Simpson reform plan can be battered as an opponent of Social Security. But any port in a storm.