Michelle Obama Urges Activism in Oberlin College Commencement Speech
The first lady championed a host of liberal causes in her speech to the class of 2015.
By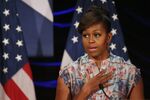 First lady Michelle Obama had a message for the graduates of Oberlin College on Monday: Get to work.
"I want to urge you to actively seek out the most contentious, polarized, gridlocked places you can find,'' Obama said during her commencement address at Ohio liberal-arts school. "Throughout our history, those have been the places where progress really happens, the places where minds are changed, lives transformed, where our great American story unfolds.'' 
Citing liberal priorities such as fighting global warming and passing equal pay legislation, Obama recalled the example set by civil-rights champions such the Rev. Martin Luther King Jr. and suffragist Lucy Stone, an Oberlin graduate, as examples of courage in the face of hatred and bigotry. 
"These folks didn't let the ugliness and the obstacles deter them," Obama said. "They didn't just give up and retreat to the comfortable company of like-minded folks, because they understood that this is how democracy operates."
As with her May 9 commencement address at Tuskegee University in Alabama, Obama drew upon her own experiences when arguing for greater social and political engagement. 
"It is loud and messy, and it's not particularly warm and fuzzy," Obama said. "And believe me, I know this from personal experience. Over the years, I've occasionally run into the noise myself.  But I've come to realize that most of that clamor is really coming from just a handful of very loud folks out on the fringes."
Urging the graduates to rally on the Supreme Court steps in support of equality for same-sex marriage, and to help elect a president who will nominate justices "who decide those cases in the first place," the first lady argued that her husband would leave the country better than when he took office.  
"We have made so much change these past six years,'' she said. "Twelve million new jobs.  Sixteen million people who finally have health insurance.  Historic agreements to fight climate change.  Epic increases in college financial aid.  More progress on LGBT rights than any time in our history. And today, it is no longer remarkable to see two beautiful black girls walking their dogs on the South Lawn of the White House lawn.  That's just the way things are now."
Watch the full speech here: