Mike Huckabee Lends Support to Josh Duggar After Molestation Allegations
The reality show star, who often posed with presidential candidates, has admitted to molesting minors when he was a teenager.
By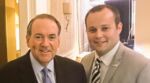 When a tabloid magazine published molestation allegations against Josh Duggar, the reality-show star turned conservative activist, he did not have many defenders. But one emerged on Friday afternoon in Mike Huckabee.