Mike Huckabee Lends Support to Josh Duggar After Molestation Allegations
The reality show star, who often posed with presidential candidates, has admitted to molesting minors when he was a teenager.
By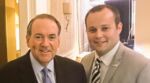 When a tabloid magazine published molestation allegations against Josh Duggar, the reality-show star turned conservative activist, he did not have many defenders. But one emerged on Friday afternoon in Mike Huckabee.
"Janet and I want to affirm our support for the Duggar family," Huckabee wrote in a Facebook post. "Josh's actions when he was an underage teen are as he described them himself, 'inexcusable,' but that doesn't mean 'unforgivable.'"
Earlier this month, the Duggars announced that they had endorsed Huckabee for president, as they did in 2008. "America needs Governor Huckabee for president! Governor Huckabee has the communication skills of Ronald Reagan, and a common sense business approach to government."
On Thursday, Duggar resigned his position as executive director of the DC-based FRC Action, a legislative organization that calls for the "renewal of ethical monotheism and traditional Judeo-Christian standards of morality." The star of 19 Kids and Counting, which recounts Duggar and his siblings' life as members of a large Christian family in Arkansas, told In Touch Weekly, which broke the story, that he "acted inexcusably" and was "extremely sorry" and that he and his victims had received counseling.
His place as a cultural and political star had meant that he had contacts with multiple politicians, including candidates for the 2016 Republican nomination for president, sometimes of the picture-for-Twitter variety, and sometimes appearing with Texas Senator Ted Cruz and Huckabee at FRC events. 
"Today, Janet and I want to show up and stand up for our friends," Huckabee ended his posting, referring to the Duggar family. "Let others run from them. We will run to them with our support."