How Bad Spin Works: A Handy Lesson from the Clinton/Blumenthal E-Mails
The sort of intra-Washington chicanery that is not scandalous, but not often revealed.
By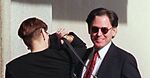 The just-released batch of e-mails from Hillary Clinton's tenure as secretary of state is full of sausage-making. It's the sort of intra-Washington chicanery that is not scandalous, but not often revealed, because human beings are capable of embarrassment. One of the more excruciating exchanges comes when Sidney Blumenthal, the journalist turned Clinton confidant, offered up pro bono spin work during the weeks before the 2012 election when Republicans started to ask why the attack on America's consulate in Benghazi had not been stopped.
On the morning of October 1, journalist Craig Unger—best known for the 2004 cui bono bestseller House of Bush, House of Saud—published a column in Salon that revealed a "Jimmy Carter strategy" being formulated by Mitt Romney's presidential campaign.
"According to a highly reliable source," wrote Unger, "as Mitt Romney and President Barack Obama prepare for the first presidential debate Wednesday night, top Republican operatives are primed to unleash a new two-pronged offensive that will attack Obama as weak on national security, and will be based, in part, on new intelligence information regarding the attacks in Libya that killed U.S. Ambassador Chris Stevens on Sept. 11."
This source of this scoop, wrote Unger, had "firsthand knowledge of private, high-level conversations in the Romney camp that took place in Washington, D.C., last week." According to the source, "over and over again they talked about how it would be just like Jimmy Carter's failed raid [on Iran in 1980]," and "they feel it is going to give them a last-minute landslide in the election." Curiously, the source predicted that the strategy would fail.
The story went up at 9:30 a.m. Eastern time. Forty-three minutes later, Blumenthal sent Hillary Clinton an e-mail with the text of the story and the subject "Romney's last gambit. Got done and published." In other words, Blumenthal, formerly a Salon columnist, was taking credit for the Romney story being placed in Salon.

In a now-deleted tweet, Romney strategist Stu Stevens snarked that it was "a mistake" to invite Blumenthal into a secret strategy session. "This was just a joke," Stevens added in an e-mail, "highlighting he knew nothing." 
More than that, the "scoop" made no sense. The Romney campaign was based in Boston, not Washington. The idea of hitting the White House over the Benghazi attacks was hardly being dreamed up in secret—Romney had done it weeks earlier, and been chastened by a media blowback. Surrogates, however, continued to talk plenty about Benghazi. The only point to the story was that it made Romney's team look callow, which was how allies of the Obama administration wanted them to look.
The running theme of Blumenthal's missives to his "old friend," the Democratic frontrunner, is that Blumenthal is a gusher of terrible advice. The revelation of these e-mails is that even terrible advice could pay off, if the media was willing to accept a narrative that made the Clintons' enemies look malicious. Republicans did not quite need a FOIA to discover that, but it certainly didn't hurt.