politics
Hillary Clinton Told by Friend Sidney Blumenthal Benghazi Attack Was Terrorism
Mark Drajem, Billy House and Ben Brody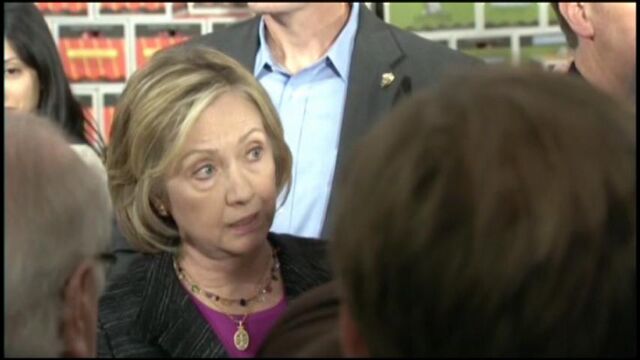 A longtime friend of Hillary Clinton told her the deadly attacks on the U.S. mission in Libya had been planned for a month by al-Qaeda affiliates and that the attackers used a nearby protest as a cover for the raid.
The message from Sidney Blumenthal, a White House adviser in the Clinton administration, two days after the Sept. 11, 2012, attack, was among dozens he sent her while she was secretary of state, according to e-mails released Friday by the State Department. Blumenthal's Sept. 13 memo said that the attackers had planned the assault and then took advantage of the demonstrations -- a finding that was at odds with the description initially offered by the White House.
Clinton forwarded to her State Department colleagues many of the e-mails from Blumenthal who also was advising businesses looking for government contracts in Libya.
Blumenthal's extensive contacts with the State Department during Clinton's tenure also show a keen appreciation for politics. He said Republicans could exploit the attacks to try to show that President Barack Obama was weak on national security. Republicans have argued that the Obama administration downplayed the attack's ties to terrorists for political reasons. The administration says it presented the best intelligence it had.
'Self-Selected'
The State Department released Hillary Clinton's e-mails tied to the 2012 attack in Benghazi, Libya, which a supporter said confirms her account to a special committee investigating the incident and Republicans dismissed as "self-selected."
The 296 e-mails are a fraction of more than 30,000 work-related messages Clinton, now a Democratic presidential candidate, turned over from the private e-mail account she used while secretary of state in Obama's first term. Clinton's use of a private e-mail address and home server has become a focus of a House committee investigating the 2012 attack in Libya. Ambassador Christopher Stevens and three other Americans were killed in an assault on the U.S. diplomatic compound in Benghazi and a nearby CIA outpost.
The top Democrat on the Republican-led House Benghazi committee, Representative Elijah Cummings of Maryland, said in a statement they contain "no evidence to back up claims that Clinton ordered a stand-down, approved an illicit weapons program, or any other wild allegation Republicans have made for years."
'Unresolved Questions'
The Republican chairman of the committee, Representative Trey Gowdy of South Carolina, said in a statement the e-mails reflect a "self-selected" record by Clinton and her lawyers. Gowdy said his panel will continue to push for a broader range of other material and information, and "we will not reach any investigative conclusions until our work is complete."
At the same time, Gowdy also said, "these e-mails continue to reinforce the fact that unresolved questions and issues remain as it relates to Benghazi."
Gowdy cited several e-mails from the batch that he said highlight "significant investigative questions." Among them were some related to deteriorating security in Libya prior to the attack.
In an Aug. 24 e-mail, Clinton aide Jacob Sullivan writes about warning signs in response to a memo that mentioned Red Cross's decision to suspend activities in Benghazi.
Message Redacted
The communication "reinforces questions about what was done in response to these warnings," according to Gowdy.
Clinton, speaking at a campaign event in New Hampshire, said, "I'm glad that the e-mails are starting to come out which is something that I've asked be done, as you know, for a long time."
Portions of one e-mail sent to Clinton about the arrests of suspects in the Benghazi attacks on Friday were designated as secret and withheld, underscoring concerns about the use of a private e-mail account by a high-ranking public official.
"That happens in the process of Freedom of Information Act responses," Clinton said. "But that doesn't change the fact that all of the information in the e-mails was handled appropriately."
Marie Harf, a State Department spokeswoman, told reporters that the information in the e-mail hadn't been classified as secret at the time it was sent.
Announce Death
Six e-mails dated on the evening of Sept. 11, 2012, show Clinton trying to decide how to announce the ambassador's death, planning a secure conference call with Obama's national security adviser, Thomas Donilon.
In an e-mail with the subject line "Chris Smith," dated from about eight hours after the start of the attack, Clinton tells aides that "the Libyans confirmed his death. Should we announce tonight or wait until until morning?"
It's not immediately clear in the e-mails who the person in question is. Stevens often went by Chris. Diplomat Sean Smith was also killed in the attack.
Aide Victoria Nuland responded that they will "ck family's druthers. If they are OK, we should put something out from you tonight."
At 6:23 a.m. on Sept. 12, aide Cheryl Mills sent an e-mail to Clinton with the subject line "We recovered both bodies overnite and are looking at getting at statement out at 7am."
A former magazine reporter, Blumenthal joined the Clinton White House, and defended President Bill Clinton during the Monica Lewinsky sex scandal.
No Contract
The State Department said Blumenthal was neither employed nor contracted by the government. A receptionist at the Clinton Foundation said Blumenthal wasn't listed in the staff directory now.
"He sent me unsolicited e-mails which I passed on in some instances, and I say that that's just part of the give-and-take," Clinton told reporters Tuesday in Iowa. "He's been a friend of mine for a long time."
White House Press Secretary Josh Earnest said he doesn't know whether the president or others knew Blumenthal was giving Clinton advice."And there's no indication on our part" that the information from Blumenthal was given priority, he told reporters at a briefing Friday.
Republicans have tried for more than two years and through multiple investigations to prove that Clinton failed to bolster security before the assault, and that she should share blame for the initial, erroneous account by Obama's administration of what happened in the incident.
Partisan Politics
Democrats say the Republican investigations focusing on Clinton are inspired by partisan politics. They are criticizing the Republicans for continuing the investigation and keeping Clinton's potential appearances before the committee open-ended as the 2016 election approaches.
The extent to which Blumenthal may have been operating an unofficial intelligence operation for Clinton as secretary of state has been an emerging line of inquiry for Republicans on the House Benghazi committee in the past couple of months.
Blumenthal this week was called by Gowdy to give a deposition on June 3 about memos he sent Clinton prior the terrorist attacks. The State Department in February provided this group of 296 e-mails to Gowdy's panel.
Blumenthal's e-mails had been hacked and many of them were released earlier. He didn't return an e-mail sent to the address listed on the e-mails, or a message left on a number public records identified as his home telephone.
Department Review
More than 30,000 Clinton e-mails have been under review by the State Department. Clinton, who served as the top U.S. diplomat from 2009 until early 2013, has said through her lawyer that another 31,000 e-mails on her private server that she deemed personal in nature were deleted.
Clinton testified before Congress in January 2013 that there was no attempt by the State Department or Obama administration to mislead the public about the Benghazi attack.
She has said she used a private e-mail account as secretary of state for convenience because she didn't want to carry multiple e-mail devices. Today's release showed Clinton used a second e-mail addresses tied to her private server. Her campaign said the address changed after she left the State Department.
A federal judge has ruled that the entire collection of Clinton e-mails turned over to the State Department must be made public on a rolling basis, rejecting the department's proposal for a mass release in January.
(Updates with responses from Clinton in 12th paragraph, White House in 24th paragraph; adds excerpts from e-mails.)
Before it's here, it's on the Bloomberg Terminal.
LEARN MORE