This Is the Way the (Letterman) World Ends
Not with a bang—but with four presidents, and exactly the same self-deprecating genius he began with.
By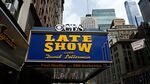 David Letterman's last show was like (almost) all the rest of them: funny, wry, quietly wistful and oddly egoless for a show in which a man whose name was in the title stared right into the camera and talked extemporaneously about whatever was on his mind. There were clips, and terrific celebrity walk-ons—namely, the most star-studded Top Ten list in human history (fittingly, with a comedy Hall of Fame behind him, Letterman was mostly infatuated with Peyton Manning)—some heartfelt goodbyes and a closing montage set to the Foo Fighters' (live) "Everlong," Letterman's favorite song. Letterman did not cry, or even get outwardly emotional: He just said, "that's all I've got," cut to the Foo Fighters, and that was the end. It was pretty perfect.