This Is the Way the (Letterman) World Ends
Not with a bang—but with four presidents, and exactly the same self-deprecating genius he began with.
By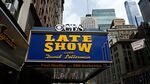 David Letterman's last show was like (almost) all the rest of them: funny, wry, quietly wistful and oddly egoless for a show in which a man whose name was in the title stared right into the camera and talked extemporaneously about whatever was on his mind. There were clips, and terrific celebrity walk-ons—namely, the most star-studded Top Ten list in human history (fittingly, with a comedy Hall of Fame behind him, Letterman was mostly infatuated with Peyton Manning)—some heartfelt goodbyes and a closing montage set to the Foo Fighters' (live) "Everlong," Letterman's favorite song. Letterman did not cry, or even get outwardly emotional: He just said, "that's all I've got," cut to the Foo Fighters, and that was the end. It was pretty perfect.
But I was still staggered by the opening bit.
The show began with that famous clip of Gerald Ford intoning that "our long national nightmare is over." Then, amazingly, mind-blowingly, we cut to four of our five living Presidents, looking into the camera, and saying the same thing. George W. Bush. Barack Obama. Bill Clinton. George H.W. Bush. All the living Presidents, other than Jimmy Carter (who was actually a guest on the show several times). It was stunning to see. The Bushes, in particular, were a shocking get. Dubya was only on the show once and was a target of Letterman's mockery for more than a decade, including this hilarious montage of Dubya … well, being our Dubya.
And his father's appearance may have been even more surprising. He never appeared on the show, and had zero connection to Letterman; if anything, Bush was a Jack Paar man. How did they get him? Did Dubya help talk him into it? Does he even know who David Letterman is? Was it strange for him to parrot the most damning quote about Richard Nixon, a man he worked with for many years, in a tribute to a TV funnyman? So many questions.
More than anything, though, it made me wonder: Who else could pull this off? Four of the five living Presidents coming together to make a joke about perhaps the most shameful moment in Presidential history, in tribute a comedian. Could you get those four men to record a tribute to anyone? Four Presidents?
Everything that came after was appropriately light, as Letterman had promised. It was not mawkish or weepy: It was just a supersized episode of "Late Show With David Letterman." We laughed, he waved us off, we all went home. But that opening bit said all that needed to be said. It's a chapter of television history, of American history, that is now over. Its import was self-evident. As much as he claimed otherwise, David Letterman was more than just a goofy TV man. He was a broadcasting legend. If you doubted: Here are four Presidents, coming out to say goodbye. In an understated show, it was the perfect punctuation mark. And the perfect way to ride off.