Excluded from Previous Presidential Debates, a Democrat and a Republican Offer Ways for the Parties to Fix Them
Gary Johnson and Dennis Kucinich have ideas for making the debates include people likewell, them.
By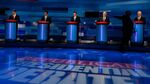 Reince Priebus, the chairman of the Republican National Committee, has said for years that he wants to prevent the party's 2016 nomination fight from transforming into a "circus." He picked a tricky time to make that stand. Former Florida Governor Jeb Bush, the weakest "front-runner" in many years, has failed to keep any of the party's credible candidates out of the race, leading to a field of at least 16 people, none polling better than the high teens in national polls.
Last week, in Arizona, the RNC discussed limiting its first televised debate to just 12 candidates. On Wednesday, Matea Gold reported that the debate's host, Fox News, wanted the debate cut down to the 10 candidates who perform best "in an average of the five most recent national polls in the run-up to the event." If two candidates tie at the bottom, maybe 11 candidates can climb aboard. That's it.
As Brett LoGuiarto pointed out, an average of national polls–which often veer from the numbers and results in early primary states–would cut out some of the GOP's most media-savvy contenders. Former Hewlett-Packard CEO Carly Fiorina, South Carolina Senator Lindsey Graham, and Ohio Governor John Kasich wouldn't make it. Nor would Louisiana Governor Bobby Jindal, meaning that the only woman and only Indian American in the GOP race would be shoved aside to make room for former Texas Governor (and 2012 mulligan-seeker) Rick Perry. Donald Trump? He'd be in the clear.
The triage was all too familiar for some of the people who ran for office, won, then ran for president only to find themselves shut out of debates. In 2012, former New Mexico Governor Gary Johnson made it into a Republican debate in Greenville, S.C., then found himself shut out of almost every other televised contest. He remained irritated that the networks based their decision on polling that did not include him.

"It's important to recognize that in these last few cycles, it was the media that was in charge, not the parties," said Johnson. "If you get blackballed by one, you get blackballed by all of them. I pissed someone off in the board room–I don't know who and why."
Former Ohio Representative Dennis Kucinich, who ran for president in 2004 and 2008, found himself invited to the latter race's initial debates and kept out of most of the key ones. Like Johnson, he assumed that the media was making calls to keep out certain voices, suggesting that at least one debate dis was tied to his support for universal health insurance. 
"It's very easy to use the media holdings to try to suppress points of view that go against the profits of larger corporations," said Kucinich. "There are already a substantial number of people disgusted with the parties, and this adds to that."
Yet neither Johnson nor Kucinich could come up with a perfect solution for the debate quandary. On Wednesday evening, CNN announced its own debate fix–a pair of tiered contests, with the top 10 candidates in one and the stragglers in another. If that resembled the Thanksgiving phenomenon of the adults' table and the kids' table, just as well. It would give struggling candidates something to aspire to. Kucinich suggested that split debates would work, but it might be better to mix up the options.

"You could do it like NCAA brackets," said Kucinich. "I can understand that a debate with 14 people might be unwieldy, but this is not rocket science. You do two debates. You draw lots. People would watch; it would be a diverse group of candidates."
Johnson suggested that the first debate should include absolutely every candidate who showed up in a poll. "I have no issue with 1 percent, 1 1/2 percent, as long as everyone's in the poll," he said. "I go with the notion that as it goes forward perhaps you need to pare it down. If you have a requirement for a certain level of support, that could escalate as the debate goes on."
That wasn't what the networks were doing. The entire debate "crisis" evaded the reality of early primary debates. Crowded stages are not designed for spats to break out. They are, functionally, cattle calls–joint press appearances. By basing the invites on national polling, the parties were ignoring the reality that candidates compete first in Iowa and New Hampshire, and attempting instead to present a roadshow of GOP talent and diversity.
That, said Johnson, was exactly the problem in 2012.
"I think that at the presidential level, there should be some consideration given to the fact of whether you've been an elected official," Johnson told Bloomberg. "Here I'm thinking of Herman Cain–why did Herman Cain get a pass? Was it because he was black, that the media and Republicans wanted this perception that they were inclusive? Why Herman Cain, who had never held office? Right now, there's Ben Carson, who has never held political office. I don't want to demean somebody who hasn't held office, but it speak volumes about how you might do in the job. You've had your mettle tested."
CNN's "kid's table" debate might lead to some indignity. Fox's algorithm might end up denying people with long resumes, in favor of flashier candidates like Trump. Johnson and Kucinich both argued that any candidates who were shut out needed to go around the debate and make a cause out of the exclusion.
"What if they cut out George Pataki?" asked Johnson. "A three-term governor of New York state? Come on, come on! Get out, hold a press conference and start yelling that you're mad as hell and don't want to take it anymore."
"There are ways around this," said Kucinich. "People could schedule their own debates. They could get a lot of coverage if they do it creatively. I think there'd be a lot of interest in that, and maybe a backlash to a process that is already reeking."