Christie Gets Candid, Profane With N.J. Reporters at Roast
Elise Young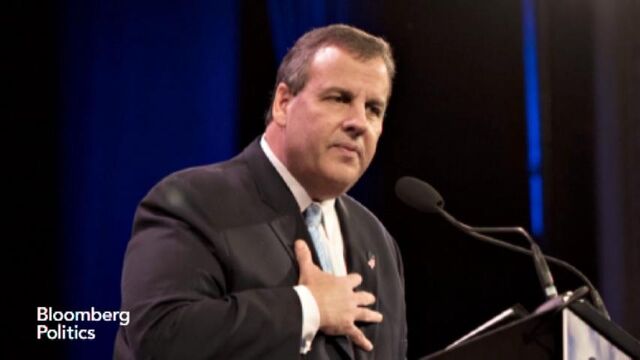 Chris Christie gave an expletive-laced speech at an annual New Jersey media roast Wednesday, taking aim at reporters who had mocked him for the George Washington Bridge scandal, his travels and the state's finances.
"We don't give a s--- about this or any of you," Christie, a 52-year-old Republican who is considering a run for president, said to laughter and applause from about 350 people at a Hamilton banquet hall. He told one journalist to "open your eyes" and "clean the s--- out of your ears."
"This is a guy who says he doesn't know what I'm doing every day," Christie said of the New Jersey Legislative Correspondents Club president. "Then just get the f--- away from me then if you don't know what I'm doing."
The event, a dinner featuring spoofs sung by members of the media, is a roast of the sitting governor that attracts elected officials and lobbyists in addition to television, radio and print reporters.
Christie made his remarks after participants borrowed from a Randy Newman tune to refer to his purported fondness of "hotels and fancy meals" and tendency toward "lots of promises and shady deals."
Another song, "If I Were a Rich Man" from Broadway's "Fiddler on the Roof," was reworked: "I'm not Sheldon Adelson's boy/I'll tell him I'm another hopeless goy."
No Video
Kevin Roberts, a Christie spokesman, said the performances and the governor's remarks "were in jest and parody." The dinner, he said, brought guests together in an "off-the-clock" manner to support journalism scholarships.
"That anyone would misrepresent the traditional lighthearted nature of the event is a disservice to everyone involved," Roberts said by e-mail.
In 2012, Christie and Cory Booker, the former Newark mayor who now is a Democratic U.S. senator, collaborated on a video for the show that parodied the governor's potential as a vice president and the mayor's heroism after saving a neighbor from a fire. Posted on Christie's YouTube page, it's been viewed more than 400,000 times.
This year, he said, he had no video, not because he was too busy with his recent travel, but because "we just don't give a s--- anymore."
Of a car accident involving a reporter on his way to the event, he said: "Why wasn't the car bigger and why weren't more of you in it?"
"I can be like this tonight on the record because Maria Comella is not here," Christie said, referring to his communications director. "Let me tell you, everybody, I'm as scared of her as all of you are."
Christie has had a fraught relationship with news organizations. In a CNBC interview broadcast Thursday, he said the media betrayed a liberal bias by pursuing the George Washington Bridge scandal harder than Hillary Clinton's use of a private e-mail server when she was U.S. secretary of state.
"The intensity of the coverage, and the relentlessness of the coverage is different," he said.
Bloomberg News, which had no reporters at Wednesday's roast, obtained a recording of Christie's speech from a guest. Roberts, Christie's spokesman, said the governor's remarks were all jokes made with the understanding that they weren't for publication.
Roberts said the event opened with a reminder from Kevin McArdle, a newsman for radio station 101.5 FM WKXW, that the appearance was off the record. McArdle declined to comment.
Michael Symons, a Gannett Co. reporter who has organized several shows, said in an interview that guests are asked not to publicly disclose specifics while the event is under way, and that's been the request for about 20 years.
"I don't think people in the audience were particularly shocked to hear the language," Symons said in his office in the Trenton statehouse. Some songs, he said, included "off-color words" that, when used in film, garner a PG-13 or R rating.