Chris Christie Says Bridge Scandal Was Covered More Harshly Than Clinton E-Mails
The Republican speculates about what the media reaction would have been if he had acknowledged deleting e-mails in the so-called Bridgegate flap.
By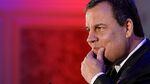 Likely Republican presidential candidate Chris Christie said Thursday that he has been scrutinized far more heavily by the media than Democratic front-runner Hillary Clinton when it comes to their respective controversies.
"If I had come out the day after the Bridgegate thing was announced and said, 'By the way, um, all my e-mails are on a private server and I deleted a whole bunch of them and I destroyed the server, but you need to take my word for it, the e-mails had nothing to do with the bridge stuff,' can you only imagine what the reaction would have been?" Christie said on CNBC's Squawk Box.
The bridge controversy stems from 2013 lane closures near the George Washington Bridge that snarled traffic in a town whose Democratic mayor hadn't endorsed Christie for reelection. The story blew up in January 2014, rocking Christie's presidential ambitions. After a months-long federal probe, two of his ex-allies this month pleaded not guilty to criminal charges related to the lane closures.
Christie said media coverage of Clinton's e-mail practices has paled in comparison. In March, before she launched her campaign, Clinton defended herself against the revelation that she had used private, nongovernmental e-mail as secretary of state in the Obama administration and deleted thousands of messages she deemed personal. A Republican-led House committee investigating the 2012 Benghazi attacks is seeking e-mail messages and testimony from Clinton. Christie maintained that the "intensity of the coverage and the relentlessness of the coverage is different" between his scandal and Clinton's. 
"I do believe that there is an absolute bias and a rush to judgement," Christie said. "You all know this. You saw the coverage of me 15 months ago. I was guilty. Guilty. I had done it. Now we're 15 months later. Where are the apologies pouring in? Not one thing I said on the day after the bridge situation has been proven to be wrong."
In a wide-ranging interview, Christie addressed foreign policy, attacking President Barack Obama and saying he created the power vacuum in Iraq that led to the rise of the Islamic State. He also said the world is more dangerous now than it was before his presidency. Christie also talked about how his experience as the Republican governor of a heavily Democratic state has led him to a different philosophy on arguing social issues like abortion than those of his potential competitors. Christie said it is counterproductive to alienate people who might have otherwise embraced conservative economic policies, but are turned off by a the Republican party orthodoxy on social issues. 
"It's your tone and how you talk about it," Christie said. "If you talk about these issues in a way that you are absolutely critical of a person who has a different view than you, and dismissive of them, well then they're going to be dismissive of you as a candidate. If you are talking to a person who is pro-choice on abortion and you're pro-life, and you say to them 'I'm pro-life and that means I'm going to heaven and you're pro-choice and you're going to hell,' well, you know, if that's your tone, they don't care what you have to say about pro-growth policies." 
Christie also said his decision about whether or not to run for the White House will rest on how he thinks the campaign will affect his family. He said his wife, Mary Pat Christie, recently left her job at investment firm Angelo Gordon to be home to help their kids adjust. 
"It's a lot of time away and you don't want to mess up your kids and that's the hardest part of it," he said.