Spice Racket
The making of David Chang's hot new hot sauce
By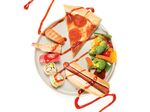 At his restaurants, David Chang uses Ssäm sauce, a Korean chili-based condiment that's like hot sauce but more savory, as if it were ketchup—on pork buns, Brussels sprouts, even roasted meat. Now he wants you to do the same at home. On May 4 he started selling a bottled version of Ssäm sauce online at momofuku.com and at Whole Foods Markets in New York City. Chang won't say how many bottles his company produced in its industrial Brooklyn kitchen—"it wasn't a small number," he hints—but all sold in 24 hours. "We already have to make another batch," he says. "And we're still learning how to distribute this stuff." It will eventually land in grocery stores nationally.
Condiments like this have never been hotter. The leader, of course, is sriracha, the peppery red paste that became a hit for California's Huy Fong Foods over the past few years. Sales of classic spreads including ketchup and mustard are flat, according to the consumer tracker Euromonitor International, while concoctions from smaller, craft-driven vendors are booming. Spicy ones are selling especially well, and that microcategory is up 7 percent this year. Analysts at IbisWorld put the hot sauce industry at more than $1 billion worldwide annually.
Sriracha has existed in Thailand for decades, so several food companies are mining other Asian countries for inspiration. The main ingredient in Ssäm sauce is gochuchang, a chili-rice-soybean mash used in Korea since the 1700s. "We didn't want to compete directly with sriracha," Chang says. "We know they're not going away."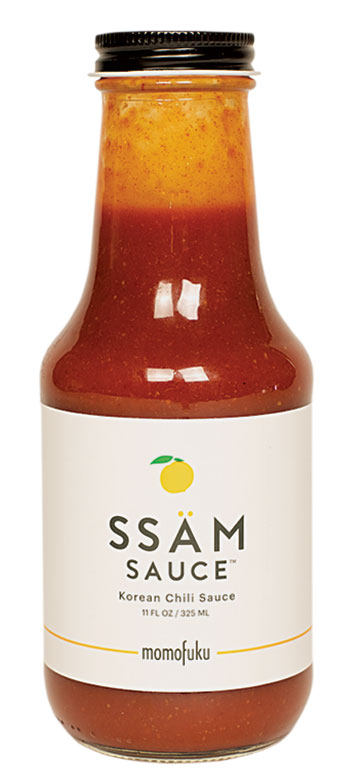 The spicy sauce trend dovetails with changing American palates. "We've seen a pretty dramatic shift in the flavor landscape," says Jared Koerten, Euromonitor's senior food analyst. "People are looking for more complex combinations. Ethnic foods are a big interest right now, too." Chang, who has become one of the most famous contemporary chefs, is both the catalyst and beneficiary of this shift. Since opening his first New York restaurant, Momofuku Noodle Bar, in 2004, he's pushed diners to be adventurous, offering novelties such as Sichuan sausage and cashew ramen, deep-fried pig tails, and chocolate chip cookies that have coffee grounds and potato chips in them. In the past 10 years, as he's expanded to Australia and Toronto, his diners have matured with him. "When I worked for Tom Colicchio, we had to sell pork belly as 'fresh bacon' on the menu, because it was such an offensive term to people," Chang says, laughing. "They thought they were eating actual stomach."
When the recession hit, people started cooking for themselves to save money, and that risk-taking spirit found its way to the home kitchen. Unusual cuts of meats like pork belly can be hard to find—and difficult to cook correctly as an amateur. Condiments, on the other hand, are both widely available and easy to use.
Chang says he's been getting retail requests for his sauces for years. He already sells hozon and bonji sauces (made from fermented legumes and rye, respectively) to other restaurants, which tout their trendy Momofuku provenance on the menu. But those require a long fermentation process and aren't sufficiently stable to be sold in stores. "That's why we're doing a hot sauce—it doesn't have to be aged," Chang says. His Momofuku Culinary Lab started working on Ssäm sauce about five years ago, trying to create something that could be bottled but still tasted similar to the restaurant version. Like other small purveyors before him, he's working with Whole Foods to figure out how to manufacture on a national scale, though he also plans to sell it at other supermarkets. "I want everyone to realize there's more to life than just ketchup," he says.
It's worth noting that Ssäm sauce is delicious. It's hot, but there's a sweetness that staves off any eye-watering or nose-running side effects. It has as much kick as a good buffalo sauce and a similar consistency, making it great for basting meats or dipping vegetables into. Hell, try it on your pizza! Chang says it can be poured on top of ice cream, too, but be cautious: That's the oldest condiment-selling trick in the book.
Before it's here, it's on the Bloomberg Terminal.
LEARN MORE