politics
Rand Paul Launches His 'Filibuster' Against Patriot Act Renewal
The presidential candidate starts speaking, but is he prepared to wreck his colleagues' holiday weekend?
By and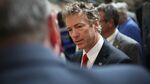 At 1:18 p.m. on Wednesday, Kentucky Senator Rand Paul took to the Senate floor, interrupting a Senate debate on trade promotion with a speech against a "clean" renewal of the Patriot Act. Paul's speech did not actually threaten the timing of votes on that bill. Yet as he spoke to a nearly empty chamber—North Carolina Senator Thom Tillis and some pages listening quietly—he told Twitter followers that this was the filibuster he'd been promising for weeks.

Shortly after that, Paul dispatched an email to his donor list, pledging to "filibuster" until he got votes on a small number of amendments that would end bulk data collection and reform the process for National Security Letters, which allow the government to compel telephone companies, Internet service providers, libraries and other entities to turn over information on customers without alerting them. "I will not rest," Paul wrote. "I will not back down. I will not yield one inch in this fight so long as my legs can stand."
Although Paul was using the f-word in his fundraising e-mails and on his Twitter account, his extended oratory does not technically count as a filibuster: For one thing, Paul's speech was coming a day before a cloture vote on the trade package, meaning that none of the Senate's business was being slowed down yet. Even if Paul manages to keep speaking through the night, he'll have to yield the floor by early tomorrow afternoon to permit a previously scheduled Senate vote on the trade bill.
A true filibuster comes during a debate on the bill that the senator or senators involved are trying to block and occurs when those senators rise to speak and refuse to yield the floor. The record is held by the late Strom Thurmond, who filibustered for 24 hours and 18 minutes against the Civil Rights Act of 1957.
For days, however, Paul has been saying he would make the renewal of the Patriot Act a problem for the security state's defenders. He had cleared his weekend schedule, in hopes of forcing a longer debate Patriot and the USA Freedom Act, a reform of bulk data collection program that privacy advocates have started to see as potentially worse than no reform at all.
That was Paul's message from the floor. "Shouldn't we at least say, let's get together, let's have a full week on this?" he asked. "The biggest complaint from the majority of this body is that we're not collecting enough records." Paul was aiming to expose the positions of the National Securtity Agency's defenders, and smoke out any details of USA Freedom that could undermine the ongoing lawsuits against bulk collection.
"It concerns me if the NSA says [USA Freedom is] not so bad," said Paul. "It concerns me that we're still going to have bulk collection."
On social media, Paul was encouraging supporters to change their avatars in solidarity with his speech. And in a message to donors, Paul raised the possibility of dragging the debate through the holiday weekend.
"It seems many of my colleagues here in the Senate care more about getting out of town for the Memorial Day break than protecting the Constitution so many American patriots have fought and died for," he wrote. "I have news for them. They are going NOWHERE."
On Wednesday afternoon, in the Senate, Paul's strategy was a bit murkier. He referred to a package of "five or six" amendments he wanted the Senate to debate, one of them reforming the National Security Letter program, but his office was not sharing the text of those amendments. In 2013, when he filibustered the nomination of CIA Director John Brennan, Paul was able to raise the profile of his issues without significantly delaying the work of the Senate. That strategy could still be operative in the waning days of the current Patriot Act authorization.
In the third hour of the speech, Paul was joined by Senator Ron Wyden, an Oregon Democrat whom Paul had described as a member of "the Bill of Rights caucus" earlier in the week. Wyden, for the first time, gave an indication of how he and Paul could delay a vote on Patriot.
"At at some point in the near future, whether it's this weekend or next week or next month, my analysis is the proponents of bulk phone record collection are going to seek a vote in the senate to continue what I consider to be this invasion of privacy of millions and millions of law-abiding Americans," said Wyden. "When that happens, I intend to use every procedural tool available to me to block that extension. And if at least 41 senators stand together, we could block that extension and block it indefinitely."
—Katherine Rizzo and Loren Duggan contributed reporting.
(Updates previous version of this story.)
Before it's here, it's on the Bloomberg Terminal.
LEARN MORE