politics
Iowa Democrats: Flawed Hillary Clinton Our Best Hope to Win
A Bloomberg Politics/Purple Strategies focus group finds Democrats resolved over their presidential frontrunner.
By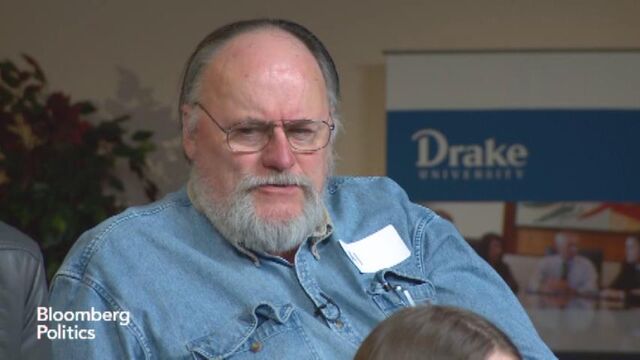 Iowa Democrats are rallying around Hillary Clinton with pragmatic enthusiasm, acknowledging distaste and concern over some of her tactics and ethics while embracing her strengths, experience, and policies heading into the 2016 presidential election.
A focus group of 10 Democrats—five women and five men—assembled this week in Des Moines by Bloomberg Politics and Washington-based Purple Strategies was mostly willing to look past Clinton's paid speeches, her Wall Street ties, the controversy over her use of private e-mail while secretary of state, and her refusal so far to weigh in as a candidate on the Trans-Pacific Partnership trade agreement that has turned many Democrats against President Barack Obama.
Despite her perceived flaws, the group's participants indicated that they believed Clinton represents the Democrats' only hope of holding on to the White House.
Participants repeatedly praised Clinton's experience, especially on foreign policy, though none was able to name any of her accomplishments as the nation's top diplomat. Most said they're willing to live with the things about her they don't like, either because they like her on balance or don't see a viable alternative, especially with Massachusetts Senator Elizabeth Warren passing up the race.
"She's a bad mama-jama," said Kiendra, 36, a librarian. "She's a strong, competent woman. She knows what she's doing. She's not afraid to step up. She's not afraid to take advice and she's not afraid to say, 'No, I don't want to do it that way. I'm going to do it this way.'"
Kiendra rejected any suggestion that Clinton and her husband, former President Bill Clinton, think they can operate by a different set of rules from other people. "I think they just play the game well," she said.
"She's not perfect," said Charlie, 24, a graphic designer. "She's been in the eye for a long time, in the public's eye, and you're going to have some stuff on her. But she has great policies and she knows how to get stuff done."
"There's definitely some trust issues there," added Bill, 55, a chef. "But like everybody else has said, her record pretty much speaks for itself. She is eminently qualified to run this country, and I think she'd probably do a pretty good job."
Ryan, 38, an event planner, said he prefers Vermont Senator Bernie Sanders as an alternative to Clinton. "I just think that she's a career politician. I mean, I really don't see her doing anything different than what Obama did, which is promise us all these things but then be like, 'Well, I'm really not going to push it too hard.'"
Ryan said he was troubled by Clinton's response to the 2012 attack on the U.S. consulate in Benghazi, Libya. "I mean, she completely hid behind it and just didn't discuss it. And I would really like to see the next president actually be more forthright and actually be more outspoken and been like, 'Listen, we made a mistake. This is where we went wrong.' And just completely own it. But we don't have politicians like that any more."
Al, a teacher who described himself as over 65 without specifying his age, said there is something about Clinton that gives him pause. "It's hard to put my finger on it," he said. "It's just, I don't think we would get along that well." At the same time, he said, "I think she's very smart" and "I admire her. I admire her husband."
While the group agreed that Clinton possessed the experience and policy positions required to be elected president, the participants were less confident when it came to naming the former secretary of state's actual accomplishments.
"I really can't name anything off the top of my head," said Ryan, the event planner.
Following a brief silence, a 22-year-old student named Amanda added, "I honestly can't say I followed along [with] everything that was going on."
Participants expressed only modest interest in potential Clinton rivals such as Sanders, former Maryland Governor Martin O'Malley, former Virginia Senator Jim Webb, and Vice President Joe Biden. Their value, the group said, lies primarily in being sparring partners who would prepare Clinton for a general-election campaign or prod her further to the left on policy. 
Compared to Clinton's unsuccessful 2008 bid, the participants said they saw early signs that support campaign officials' contention that she is running differently this time around.
"She's keeping it so small and low-key right now," said Bill, the chef. "I'm not sure it's a good ploy, but we'll see how it works. All over Iowa, appearances in the last month have been real small, four or five people in a focus group like this and no major appearances."
Clinton's decision to avoid questions from reporters—before Tuesday, she hadn't answered any for four weeks—didn't escape notice.
"It's a political gamble right now to avoid questions because she could do more damage than good right now and she's just building a campaign," said Charlie, the graphic designer, adding that he will be bothered if she continues to say little. "I accept that element of politics at the moment and I accept that on the Republican field, too, that there is a lot of political gambles, there's a lot of 'strategery' at this stage in the process because it's going to be a long campaign season."  
John, 31, a teacher, said the absence of a strong rival is allowing Clinton to take a different approach. "She's not running against an unbeatable candidate this time," he said.
"Last time, she was running for the nomination," said Marlene, 66, who is retired. "This time, she's running for president."
"You can do that with a whole lot more confidence than you can when you're trying to beat out somebody who's in your own party," she said. "So she can really be talking about issues more."
Bloomberg Politics, in conjunction with Purple Strategies, conducted two qualitative focus groups in Des Moines, Iowa, one of likely Democratic caucus participants and one of likely Republican caucus participants. Each group consisted of 10 participants, both men and women, and from a variety of ages and socio-economic and educational backgrounds. Qualitative research results cannot be statistically analyzed or projected onto the broader population at large. As is customary, respondents were compensated for their participation.
—David Knowles contributed to this report.
CORRECTION: An earlier version of this story gave in incorrect age for focus-group participant Kiendra.
(Corrects participant's age in fifth paragraph and adds details starting in fifth paragraph.)
Before it's here, it's on the Bloomberg Terminal.
LEARN MORE