Trumping Trump
The Profit's Marcus Lemonis is the least lame entrepreneur on television
By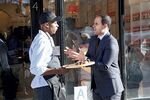 There's a moment in the third season premiere of The Profit, a reality show on CNBC, when host Marcus Lemonis persuades a young man, Scott, to return to the company he founded with his brother Mike. They split acrimoniously, and the business is almost bankrupt. "I have to tell you something," Lemonis says. "He feels like he lost his brother forever."
"He should," Scott says, his voice halting. "He should feel that way for what he did." Much of the episode has focused on more mundane topics like inventory, so this drama is welcome. And when the brothers reconcile on camera, giving the business its only chance of success, the moment seems risky, painful—and true.
Given how fake CNBC's news programming can be—the hair and makeup, the occasional hysteria, the dispatches from the floor of the stock exchange, where virtually no trading occurs anymore—it's remarkable to find these raw scenes each Tuesday at 10 p.m. That's not to single out CNBC. The cable news medium is like a TSA body scanner: probing barely beneath the surface, probably toxic, and impossible to avoid at airports. (Bloomberg LP, owner of Bloomberg Businessweek, also operates a financial news channel.)
The Profit is a rare corrective, managing to be entertaining and informative about how businesses work. In each episode, a ruthless and telegenic Lemonis, a turnaround specialist, visits an ailing company. He buys an equity stake with his own funds, then attempts to overhaul the operation. The enterprises are charming—a wine shop, a key lime pie store—and their problems are urgent. They might be trapped in a debt spiral, captive to middlemen, or unsophisticated about margins. The owners will go bust and employees will lose their jobs without intervention.
Lemonis's prescriptions are crisp, and the money he puts up is real, usually in the low six figures for a stake of 20 percent to 51 percent. Some of the rehabs succeed, and some do not, but watching each play out over an hour makes the enterprise feel exciting. You can imagine a bunch of MBA students watching together at home, holding hands in full business attire. After two seasons, The Profit has become something of a sleeper hit; it now averages 796,000 viewers, according to Nielsen.
The episode with the brothers follows SJC Drums, a company in Dudley, Mass., that makes custom kits. The product is good enough for rock bands such as Green Day, but SJC is losing hundreds of thousands of dollars as shipping times slip. Lemonis rapidly identifies what's wrong, including prices that are too high for all but a tiny customer base and a sales workflow in shambles. He interviews workers in front of management, a squirmy feat that gets the whole team communicating honestly. Then he gets the estranged family talking again.
He offers $400,000 for a third of the company, enough to pay off liabilities and invest in new equipment. SJC develops a good-better-best product lineup that's more retail-friendly, and an upbeat montage shows the staff moving workbenches to optimize efficiency. Business!
Plenty of Lemonis's overhauls fail—his ideas don't work, or he and the owners almost come to blows. In the real world, he's the chief executive officer of Camping World, an RV empire with $1.7 billion in revenue; he first appeared on TV as The Apprentice's marketing expert. On The Profit, he's the generic personification of capitalism, with an immaculate haircut, tailored clothes, and eyes like a Predator drone. He risks his cash because he could net future earnings for a steal. Or he could watch it disappear.
But the point of the show isn't to marvel at his infallibility. The Profit is good TV because Lemonis makes small-business problems seem curable, with fresh eyes and a little capital. It's about hope. In the wasteland of cable news, that's the ultimate turnaround job.
Before it's here, it's on the Bloomberg Terminal.
LEARN MORE