Poll: Support for Gay Marriage Reaches Record-High
A Gallup survey finds that 60 percent of U.S. believes same-sex marriages should be legally recognized.
By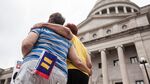 America continues to change its mind on gay marriage.  
A record 60 percent of U.S. adults surveyed now say that same-sex marriages should be recognized by the law, a new Gallup poll finds. Support for extending full marriage rights to gay couples has risen dramatically since 1996, the first year that Gallup began polling on the subject, when 68 percent of Americans said that they did not think same-sex marriages should be recognized. 
Seventy-six percent of Democrats surveyed, 64 percent of Independents, and 37 percent of Republicans now say that gay marriages should be recognized in the same way as heterosexual unions. Each political group has seen a marked rise in support for marriage equality since 1996, when just 33 percent of Democrats, 32 percent of Independents, and 16 percent of Republicans held that opinion. 
Gallup cited the age disparity among political parties as one possible explanation for why Republican support for same-sex marriage rights trailed that among Democrats:
The party divide between Democrats and Republicans may hinge largely on the age groups that compose each party. Gallup has found that younger Americans are significantly more likely to lean Democratic, while older Americans skew Republican. And while majorities of each age group under 65 support marriage equality in 2015, those aged 65 and older are still more likely to oppose it. This is a new phenomenon for the 50- to 64-year-old group. Last year, just 48% of these middle-aged Americans supported legally recognizing gay marriage. But in 2015, this figure has climbed to a majority of 54%.
The United States Supreme Court is expected to rule next month on whether gay marriage is a constitutionally protected right.